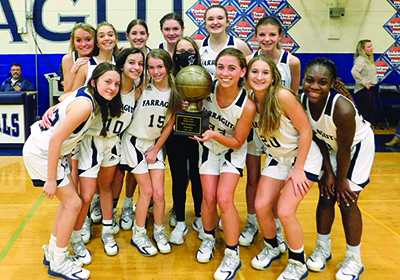 It took a little overtime and perseverance to overcome a nine-point third-quarter deficit, but the Farragut Middle School girls basketball team will make its third consecutive appearance at the TMSSAA Class AAA State Sectionals.

The Lady Admirals edged Hardin Valley 39-37 in the consolation game of the Knox County Middle School Basketball Tournament Wednesday, Jan. 20, at FMS's Bobby J. Henry Gymnasium.

"I'm really proud of them for stepping up when they were under a lot of pressure," Farragut head coach Devan McIntyre said.

"I'm so proud of my girls, and it's been fun and great to watch them grow over the last three years," Hardin Valley head coach Cara Cahak said.

Lady Ad Annie Priest led all scorers with 15 points. Sydney English added 12 and Anna Corum had seven points.

Madison Smith and Kamryn Butcher scored 11 points each for HVMS, while Macy McInturff finished with nine.