Down 7 at the half, Lady Bulldogs roll past FHS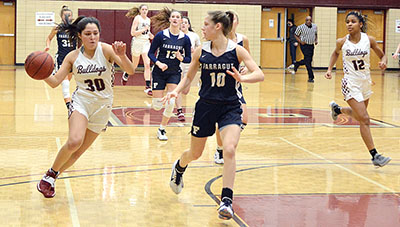 KNOXVILLE -— When the Bearden High School girls basketball team faces adversity, it doesn't panic.

Things weren't going well for the Lady Bulldogs in the second quarter against rival Farragut Friday night, Jan. 29. They were struggling offensively, scoring only four points in the fame. Bearden trailed 26-19 at halftime.

No problem.

Bearden's coaching staff made a few halftime adjustments, and the Lady Bulldogs stormed back to claim a 58-52 District 4-AAA victory over the Lady Admirals at BHS.

"True character is shown when adversity hits," Bearden head coch Justin Underwood said after his team improved to 17-1 overall, 11-0 in District 4-AAA, after its second come-from-behind win against FHS this season. "You could tell that Farragut looked focused from the warmups, and I think they came out and really punched us in the mouth. Thank goodness for halftime.

"I think coming out of the locker room we made a few adjustments. But the truth of it is the kids answered the bell and started plying the way we asked them to play," he added.

Enter Bearden sophomore post player Avery Treadwell, who scored 16 of her 22 points after the break.

"When we came out after halftime we didn't point fingers, we just put our heads down and we went to work," Treadwell said. "At halftime, (assistant) coach (Josh) Suttles showed me ways to get open."

She scored eight points in the frame and keyed a 23-8 run, as the Lady Dawgs opened a 42-34 lead and assumed control.

"Bearden came out and responded, and we just had a bad quarter there," FHS head coach Jason Mayfield said. "... They were more physical and we had some costly turnovers. That's what great teams do, and they're a great team."

Bearden junior guard Emily Gonzalez had 17 points while senior guard Zneyah McLaughlin scored all six of her points after halftime — and had three key offensive rebounds in the contest.

The Lady Ads (12-4 overall, 6-4 in the district) were led by junior wing Ace Strickland's 22 points. Keeleigh Rogers added 12 and McCall Willis finished with 11.