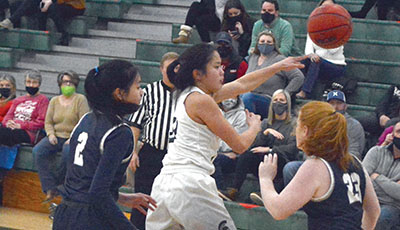 KNOXVILLE — Crushing Alcoa the night before — a perennial Division I Class AA state contender no less — Ricky Norris' Webb School of Knoxville Spartans didn't let up on the school's Senior Night.

Led by senior wing David Sanger's 17 points, the Spartans dismantled Grace Christian Academy 68-31 Friday night, Jan. 29, to remain unbeaten in district play and improve to 22-2 overall.

"It's that time where we need to play well. ... We've got to start gaining momentum for the tournament," Norris said after the Grace win, referencing his team's preparation for postseason play, which starts later this month.

About his two key players honored on Senior Night, "David Sanger's been in our program as a four-year varsity player," Norris said about the two-year starter and key back-up on the 2019 Division II-A state title team. "Even in middle school he played with us some in team camps. ... He's had a tremendous impact on our program. He's a hard worker, brings energy every day."

Senior wing Owen Feld "has made tremendous improvement, he's really put the time in to get better," Norris said.

Feld scored eight against Grace.

Luke Lentz, Webb junior wing, nailed four three-point baskets and pumped in 14.

Other Spartans scorers were Jaylon Green with seven, Brandon Winton six, Devin Mixon five, Lukas Walls four and John Tolsma three points.