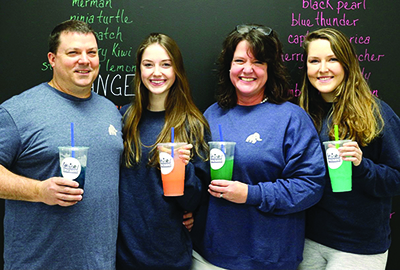 Seeking to offer a healthy alternative to fast food, Admiral Nutrition, 157 West End Ave. in West End Center, is opening under new ownership and is holding a ribbon cutting and grand re-opening this week.

While the business had a soft re-opening Monday, Feb. 1, owners Elizabeth Carroll (Farragut High School Class of 1991) and husband, Brian Carroll (Bearden High Class of 1990), will cut the ribbon at 11:30 a.m., Friday, Feb. 5.

Its grand re-opening, from 9 a.m. to 2 p.m., Saturday, Feb. 6, will feature drawings, giveaways, prizes, some samples and activities for children.

"We are beyond excited and grateful," Elizabeth Carroll said. "This is definitely a family business. My daughters are going to be there as well.

Goals, product

"We want this to be a place for all ages," she added.

Admiral Nutrition provides meal replacement shakes and loaded teas with a promise of multiple vitamins, protein, collagen and other nutrients. It also will offer meal replacement shakes for children.

Elizabeth explained the shakes are not "an ice cream shake. It's very different.

"People know and love this product," she added. "It's a popular item. People appreciate the nutritional value."

Along with an interest in nutrition, she said, "I think people are on the go so much and are looking for options when they can't be at home to eat. Sadly, for the most part, fast food is the only other option."

Admiral Nutrition offers a fast, nutritious alternative.

While it originally opened in October 2020, the previous owner had since relocated, giving the Carrolls the opportunity to buy the business.

"We were approached by the previous owner (Lori Case) and the owner of another store to see if we wanted to purchase it," Elizabeth said. "When the opportunity presented itself, it was a no-brainer."

Still, Elizabeth, a local practicing attorney, and Brian, a UPS manager, are "keeping their day jobs," she said.

Unique qualities

About coming here, "We said 'yes' because of my connection to Farragut," Elizabeth said. "I grew up here, my heart is here, so I think it sets us apart."

In addition, "Not only do we sell the shakes and teas, but the store itself is a really wide open space," Elizabeth said.

She envisions that space as a place where customers can gather, be welcomed, relax, study and work.

Additionally, the Carrolls plan to offer the space for rent for meetings and gatherings.

"They can certainly contact us to talk about that," she

added.

Special branding

While stores throughout Knox County are identified by their location, "The reason it is named Admiral Nutrition is because it's in the heart of Farragut," Elizabeth said.

As for the elephant in the logo, "There's a personal story there going back to one of the owners who had a child who passed away, and the elephant honors her memory," she added. "To be supportive of peers and those of us who have these nutrition stores, we keep that elephant in the logo."

Store hours are from 7 a.m. to 4:30 p.m., Monday through Friday; from 9 a.m. to 2 p.m., Saturdays (also special event hours); and closed Sundays.

For more information, call Admiral Nutrition, 865-237-0848 or visit Admiral Nutrition on Facebook and Instagram.