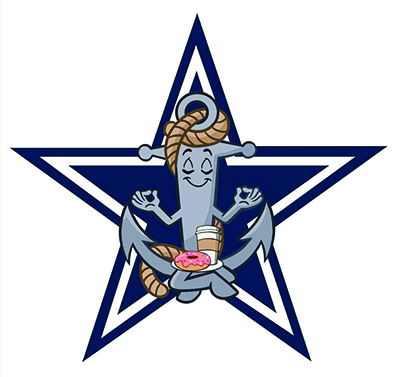 When Ryan Wells came from Cincinnati to East Tennessee in 2015, he searched for the perfect doughnut.

That search led him to open his own doughnut shops. The most recent of those, Admirals Dough-Joe, opened Monday, Feb. 1, at 11665 Parkside Drive in Turkey Creek (formerly the Gigi's Cupcakes location).

I'm excited about moving to Farragut," Wells said.

His business venture started with Beavers Dough-Joe in Karns on Nov. 30, 2018. Wells later added Panthers Dough-Joe in Powell. "We've had lots of positive feedback so far on Beavers Dough-Joe (Facebook) page," he said.

In fact, his doughnuts have been chosen "Best doughnuts in Knoxville" by an area newspaper two years running.

Keys to success

As for keys to his success, "We make them fresh every night, so you never get a day-old doughnut here," Wells said. "Our motto is 'we stay open until we sell it;' and if we don't sell out, we donate the rest to a local Boys or Girls Club or something like that.

"We use high-quality product," he added. "We make our own glaze that's homemade — it's not out of bucket."

In addition, Wells said, "We have apple fritters the size of your head; we've got cinnamon rolls the size of your head.

"We have 70 to 90 different types (of doughnuts) every day," he added. "We have yeast and cake (doughnuts), we have a few pastries, we offer bagels and our coffee is roasted locally here in Powell, next to our Powell location.

"We try to stay local the best that we can. We do a lot of specialty doughnuts," including birthday celebrations.

Wells also is considering making gluten-free muffins and cupcakes at the Parkside Drive location and shipping them to his other two stores.

Beginnings

Wells' search for the dream doughnut started when he came to East Tennessee as an International Brotherhood of Electrical Workers electrician to work at Watts Bar Nuclear Plant.

"My wife (Mellisa) is from here, originally," he said. "Back home, where I'm from, there are little doughnut shops like this everywhere."

Stopping at a local doughnut shop in Knox County, "I wasn't happy. It sent me on my journey … I struggled to find a good doughnut," Wells said.

Since Ryan and Mellisa both had good jobs at the time, they decided to open their own doughnut shop. "We wanted to be independent and do our own thing," Wells said.

His shops open at 6 a.m., Monday through Saturday (closed Sundays). Wells plans to close when he sells out of the day's doughnuts.

Customers can order ahead through Messenger on Admirals Dough-Joe Facebook page or call the shop at 865-228-3226.