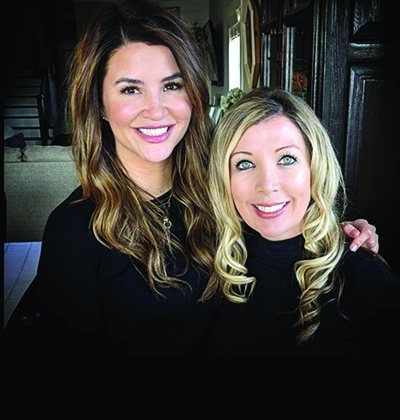 Friends Leona Skiles of Hardin Valley and Jen Young of West Knox County have partnered to launch a business, Hubbies for Hire, 10255 Kingston Pike, that helps single women with their "honey-do" lists.

They started the business Dec. 4, 2020, on Skiles' birthday. As a Realtor with Realty Executives in Farragut and a single mom, "I realized that there was such a shortage for (someone to do) all the little fixes," said Skiles, who also is a Rotary Club of Farragut member.

Personally, she could relate with her own experiences.

"I was at a point I had my dryer go out, my HVAC go out — all these things kept going out at my house," she said.

However, she had a friend who was a general contractor — and then the idea to start her own business came about. She hired Jack-of-many-trades Joe Giebudowskie as handyman and invited Young, another single mom and title company owner, to partner with her.

"When (Skiles) started this idea, I was this kind of cheerleader — 'you can do it,'" Young recalled. "Then when she came to me and offered this partnership, it was a no-brainer to work with my best friend."

Skiles said the business is marketed more toward women – single moms, widows – "for all those little things that they don't know how to fix and the big contractors are too busy to come fix them, and they charge more than what it costs to fix it themselves."

Giebudowskie can do all those small jobs, from fixing decks to drywall.

"We have just gotten the best feedback (about) him," Skiles added. "He's been doing this his whole life and just knows a lot about a lot of how to fix things."

Skiles and Young said they would like to start franchising the business to give other single women the opportunity to launch their own Hubbies for Hire businesses from home.

"A portion of the proceeds goes toward micro loans for other single women who want to start this business," Skiles said. "They come to us and we set that up with them."

Hubbies for Hire can be contacted by calling 865-976-0419, going to the website at hirehubbies.com or visiting the Facebook page, hubbiesforhire. The business also is available on Instagram, Google and Home Advisor.