FMS late rally just short of win in State Sectional final vs. Alcoa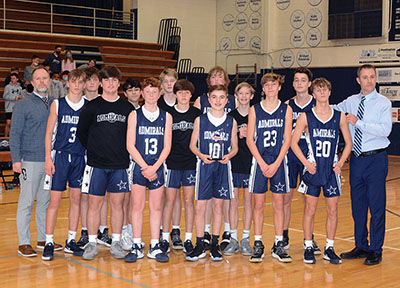 All good things must come to an end.

Despite a strong late rally, almost overcoming a seven-point deficit in the final two minutes, the Farragut Middle School boys basketball team's 2020-2021 season came to an abrupt and heartbreaking halt Saturday night, Feb. 6.

This Class AAA State Sectional championship game versus Alcoa, featuring a spirited crowd in Farragut High School's Lynn E. Sexton Gymnasium, went down to the wire before the Admirals fell 44-41.

But when he looks back on the campaign, first-year head coach Lynn Allen will remember more than just a basketball team.

"The Lord has blessed me with the opportunity to come to Farragut and coach this team," Allen said after the game.

"I wanted to make these players better young men, and I wanted to make a positive impact on this community, and I think we did that," he added.

Alcoa earns a trip to Murfreesboro and a berth in this week's four-team state tournament.

Despite seeing their season end in tough fashion, the Admirals, who trailed the Tornadoes 23-15 at halftime, had their chances to win the game late — but the shots just wouldn't go down for Farragut, which finished the season with a 12-2 record.

"We had our chances," Allen said. "We had our shots but they just wouldn't fall for us. We missed three layups after steals and we forced two other turnovers in the last 40 seconds."

The Ads were facing a 33-27 deficit heading into what would be their final quarter of the season, later falling behind 42-35 before a 6-0 late run.

Scrapping and chipping away, FMS pulled to within 42-41 when Parker Lane scored and drew a foul with 38.8 seconds remaining in the contest, completing the conventional three-point play.

After forcing a turnover with under 20 seconds to play, Farragut missed a pair of shots under the basket looking to go ahead. After an Alcoa rebound, Eli Graf made a pair of foul shots with 5.6 seconds to go to provide the winning margin.

Parker's last second three-point attempt to tie was partially blocked, leaving many FMS supporters thinking he was fouled.

Parker led FMS with 20 points. Dominic had nine and Landon Collins five.

Quick FMS start

Farragut served notice early it wasn't to be taken lightly.

The Admirals forced Alcoa into turnovers on its first four possessions and scored the inaugural six points of the contest off of those Tornadoes miscues, as Parker and Dominic VanAcker combined to give the Ads a 6-0 lead.

But Farragut's first-quarter joy didn't last long, as Alcoa closed the opening stanza with a 12-2 run to take a 12-8 lead.

Alcoa post player Eli Owens, who finished with a game-high 22 points, had eight points out of the chute. He and Eli Graf provided all of the Tornadoes' offensive output over the first six minutes.

Farragut struggled to contain Eli Owens inside once he heated up.

The second quarter would prove nightmarish for the Ads, falling behind by eight.

"I'm really proud of these kids, and not just for how far we got," Allen said. "I'm blessed to be their coach and I'm proud of the way that they fought and battled their way back.

"We had a great year. I think we're 12-2 now, and the only two games we lost were championship games," he added.

"We had a bad second quarter" Saturday.