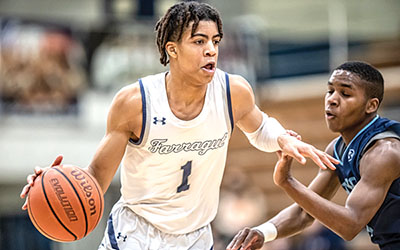 Heading into their second District 4-AAA meeting of the 2021 high school basketball season, the Farragut High School and Hardin Valley Academy boys basketball teams had both fallen victim to late-game woes.

The Admirals were able to exorcise their late-game demons and notch a 65-55 victory to secure a regular-season sweep of the Hawks Friday night, Feb. 5, in FHS's Lynn E. Sexton Gymnasium.

Led by Ads junior guard Ryan Neal with a team-high 16 points, "We're still a work in progress," FHS head coach Jon Higgins said. "We've had games this year where we've played well for 75 percent of the game and couldn't close things out in the fourth quarter.

"We've had trouble finishing basketball games this year, and we still need to work on finishing basketball games."

However, "We had a good team effort tonight and that's more of what I need to see," Higgins said, as his Ads improved to 10-10 overall, 8-5 in district.

Despite the loss, "I was really happy and proud of my guys for the way they battled late," said HVA first-year head coach Shane Wells, who saw his team drop to 4-10 overall and 3-9 in the district.

"Tonight, we won the fourth quarter," he added. "The fourth quarter has been our nemesis this year. We've had games that we've lost when we've either been tied or ahead going into the fourth quarter."'

HVA junior post Dale Henley led all scorers with 17 points.

The Hawks, who held a slim 15-13 advantage after the first quarter, outscored the Admirals 23-18 over the final eight minutes of the contest between the two Turkey Creek rivals — but HVA had dug itself too big a hole to claw its way out.

The Ads held Hardin Valley to just seven points in the second stanza and just 10 points in the third frame, before withstanding a late surge by the Hawks over the final period.

HVA, which trailed 26-22 at halftime, was behind by as many as 17 points in the final stanza as the Admirals took a 49-32 lead when Lucas Arnold scored to make it 49-32 with 7 minutes, 45 seconds to play.

But the Hawks would chip away and pull to within 56-51 on a bucket by Jaelyn Pannell with 2:41 remaining before the Admirals closed out the contest with a modest 9-4 run.

Isaiah Smith and Dallas Carbaugh each had nine points for Farragut. Smith scored seven points over the first 16 minutes while Carbaugh did all of his damage after halftime. Jack Carasso added eight points and Elisha Brabson finished with seven.

Pannell had 15 points for the Hawks, with Justin Sharp scoring nine.