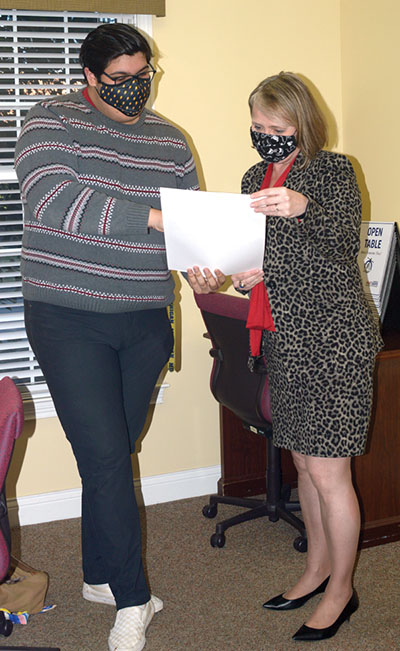 Farragut West Knox Chamber of Commerce members are hearing a new voice on the phone line these days.

The Chamber recently added Farragut High School senior Max Wegzyn as an intern this semester.

"I love it here," he said. "It's a great space to be in … a home away from home. Julie (Blalock, FWKCC president/CEO), and Susanne (Krygier, FWKCC finance and membership services director) are the sweetest in the world. You can't ask for better people to be around."

It all started during a Nov. 19, 2020, FWKCC networking event for FHS Education Foundation, when Blaylock asked Wegzyn to present the raffle winners for the door prize.

"I love a crowd — love attention," Wegzyn said, because going up to the front was natural for this theater student.

"She made an off-hand comment, a joke, 'Oh, you should be our next intern,'" he added.

About four months later, Wegzyn took Blaylock up on the suggestion and e-mailed her, reminding her of the "offer" and told her he would love to work for the Chamber of Commerce.

"I want to pursue general business, mostly marketing and advertising in my future as my career," he said. "I figured getting my toes in the water at the Chamber now, before pursuing it in my secondary education, would be beneficial to me and to my learning in the future.

"I love the community aspect of the Chamber as well," added Wegzyn, son of Mark and Mary Wegzyn. "It's very interconnected, so I felt it was a great place to be thrust into the community and also get some business experience."

While Wegzyn is waiting out some decisions on colleges, he is interested in earning Bachelor of Arts and Bachelor of Business degrees.

The FHS senior added he's also is interested in marketing and advertising design and graphic arts. "I got a reply back, saying 'we would love to have you,'" Wegzyn recalled.

Following a submittal of his résumé and interview, he started his internship Monday, Jan. 25. "We were delighted," Blaylock said.

She credited Wegzyn for his "soft skills" in dealing with callers and his graphic arts abilities as some of the motivating factors in his being chosen.

"The Chamber has always worked with the high school, and we've always enjoyed having an intern from Farragut High School every semester," Blaylock said. "Things changed a little bit with the introduction of the Work-Based Learning Program, just in terms of how we had to structure that internship."

"What is different (with Wegzyn) is most of the students we have come through our internship program are, understandably, very shy and inexperienced with business, but also inexperienced in working in an office," she said.

However, "What stood out about Max was he already had a lot of those soft skills well along their way in development," Blaylock said.

"... That's a skill that's oftentimes takes us a while to train an intern on … Max took to answering the phones very, very quickly, so much so that one of our board directors reached out to us within a couple days and said …'he knows how to handle those phones like a pro,'" she added.

Wegzyn credited his theater classes in helping him develop such soft skills as public speaking. He currently is taking a forensics theater class at FHS.

At the Chamber, Wegzyn has been collecting data that have been lacking in business files, fleshing out missing areas in its database.

In addition, "We started to give him some graphic design work," Blaylock said.

With Wegzyn also having artistic talents, he has been designing graphics for newsletters to promote networking events, Breakfast Speaker Series and ribbon cuttings.

"Since he is interested in graphic design, we are trying, as we teach him, to give him those projects that will help him flex his talents and his strengths," Blaylock said.