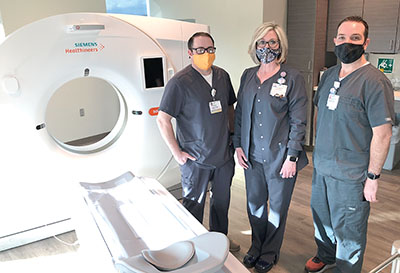 The University of Tennessee Medical Center has expanded its health care services in West Knox County by opening UT Medical Center at Northshore Town Center.

"The facility meets a community need by adding a variety of services offered by the medical center in a convenient location for people in West Knoxville, Hardin Valley, Farragut, Alcoa, Bearden and other nearby communities," Jim Ragonese, the hospital's public relations operations, stated in a recent press release.

The facility was completed in mid-December.

"Some of the practices and services were opened at that time," he said. "Other practices and services were opened (in January)."

Ragonese noted there will not be a grand opening.

Because of COVID-19 concerns, "It became evident to us that we could better serve the community by expanding the services we offer to the Farragut, West Knoxville and surrounding communities," said William David Hall, executive vice president at UT Medical Center. "We're proud to offer expanded services and care beyond what we already provide at our nearby Northshore Medical Plaza location.

"UT Medical Center at Northshore Town Center is in a high-visibility location with easy access and parking. This is an opportunity to offer services and care to many of our patients in a facility that's convenient for them," he added.

Located at 1975 Town Center Boulevard near the Target in Northshore Town Center, Ragonese said the medical center's newest location adds a multitude of diagnostic and outpatient services for the community.

"The 12,600-square-foot facility is located on the second floor of a two-story building and offers numerous diagnostic services, such as 3-D mammography, computerized tomography (CT), X-ray, bone density scanning, pulmonary function testing and echo and vascular ultrasound imaging," he stated.

"University Cole Neuroscience Center, as well as University Cardiology, University Pulmonary and Critical Care specialty practices, also are located at the facility."

Steve Ross, senior vice president for strategic development at UTMC, stated the Northshore facility "improves access to health care services and provides outreach by bringing safe, quality and convenient health care to many living in West Knoxville and the surrounding areas."

For more information, call 865-909-4040.