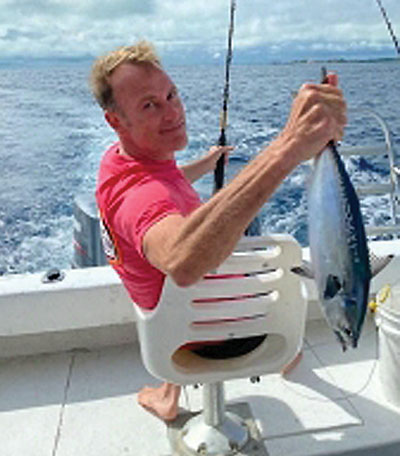 A 1989 Farragut High School graduate known to many Town customers as a hard working, efficient manager at Calhoun's restaurant in Turkey Creek not too long ago, the late Robert Lynn "Rob" Goebel is remembered fondly.

Mr. Goebel, co-owner of Cazzy's Corner Grill in Northshore Town Center, and employee Alexis Clayton were killed in a shooting Sunday, Jan. 24, at Cazzy's.

Born in Hinsdale, Illinois, Mr. Goebel, 50, moved with his family to Knox County when he was 9, according to the obituary from Click Funeral Home.

While at Cazzy's the restaurant received Top Chef awards by Cityview magazine in 2017.

Rob's eight-plus years at Calhoun's were fondly recalled by Rick Eldridge, human resources director for Copper Cellar, parent company for Calhoun's Restaurant.

"Ron was a good guy with high standards for restaurant operations and food quality," Eldridge recalled. "His food was always great, and he was always meticulous in the restaurant operation, making sure the food was of good quality and the cleanliness of the restaurant."

Eldridge also remembered how Mr. Goebel "got along with everybody.

"He worked hard at his job and was a decent fellow," he added. "He always had the (restaurant) operation at the top of his mind and worked hard at it."

According to friends' comments on Mr. Goebel's online obituary: "Ron was an individual I will never forget.

"His dedication and determination at work were impressive," the friends further stated. "We met at the restaurant and he later became a customer at my work, where we had hours and hours of discussion on the struggles of owning a small business.

"Watching him make changes and guide a restaurant through a pandemic was inspiring. He became a role mode, and I looked up to him very much."

On the online obituary, Paul Gilbreath shared: "I worked with Rob at Chili's many years ago. He was so good at his job, even way back then. We had a lot of fun working side-by-side. Customers loved Rob, he made everyone feel at home."

"I remember riding the school bus with him in middle and high school," stated a friend, Kim Wheeler. "Meri (Mr. Goebel's sister) was the first school friend I made when my family moved to Knoxville in 1982."

Family and friends attended a visitation Friday, Jan. 29, at Click Funeral Home & Cremations, 9020 Middlebrook Chapel in Knoxville. A private memorial service was held Saturday, Jan. 30, at Edgewood Cemetery.