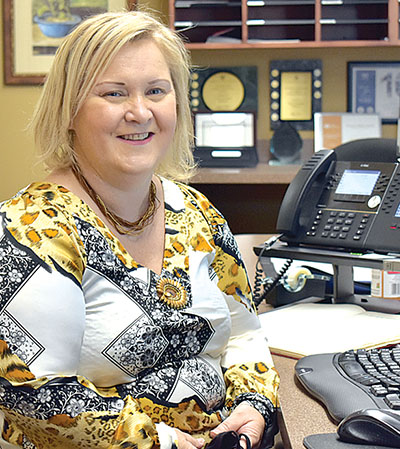 Bringing a taste of Great Britain to Farragut Town Hall, new Town receptionist Gwyneth Carrell said 2021 already is shaping up to be her year.

"I turn 50 this year, celebrate my 10th wedding anniversary and I have this wonderful job," the Macclesfield, England, native said last week at Town Hall.

"All of my boxes have been checked," she added with a wide smile. "Everything absolutely has been, and is, a blessing."

Carrell's sunny and brimming personality is immediate and forthright.

The new receptionist takes her job at Town Hall very seriously. "It's a big position and very important," Carrell said. "You are 'that girl' who answers the phone. I'm the first voice you hear when you call, or I'm the first person you see when you come in."

Carrell learned from the best. She was trained by Bettye Newby, longtime former receptionist, two full weeks before her departure. "Since Gwyneth was trained by Bettye we haven't missed a beat," said Town recorder Allison Myers, Carrell's supervisor.

"It is very hard following in her footsteps, but it was a real gift to be able to work with her," she said. "Bettye was very kind and told me she wanted me to succeed. She was so lovely.

"'I saw the lady behind the desk and she asked, Are you Miss Gwyneth?'" Carrell recalled Newby saying, adding with a laugh the former receptionist's next comment: "'Well, ain't you short (4-foot-11)?'"

New England, then South

Carrell has considered the United States "home" since serving as a nanny in Connecticut in 1991. "I fell in love with the states and knew it was 'home,'" she said.

Returning to Macclesfield, Carrell completed her undergraduate degree and began writing letters up and down the Connecticut coast, seeking sponsorship and a job to return stateside, ultimately finding success — and later, her husband, Stephen Carrell, who is a Townsend native and the son of world-renowned dulcimer artisan, the late Sam Carrell.

In the meantime, they did make regular holiday trips to East Tennessee.

"We visited a lot with Stephen's brother and sister-in-law and her family over birthdays and holidays, too — they live along Buttermilk Road and have nine children," Carrell said.

They ventured South for good early last year.

"Just before corona hit, we got our home ready. It sold within a day of it going on the market," she said.

The couple moved to Lenoir City June 1 with their two dogs, Ella and Samson.

"I love it here," Carrell said. "The people here are amazing, and are so dedicated ... like Lou and Dot Lemarche — and new transplants to the area have made me feel the Southern hospitality known only in East Tennessee."

Carrell said being in her job as a new area transplant has definitely given her an understanding and appreciation for what others might be interested to know.

"I see my job as a 'welcoming' position, and since I'm new to the area, I'm able to see things a little differently, and can share places I have come to learn about, to be able to recommend where someone might want to stay or visit."

"Being newer to the area, she has also been able to provide a fresh perspective on what visitors and new residents are looking for when they contact the Town Hall," Myers said.