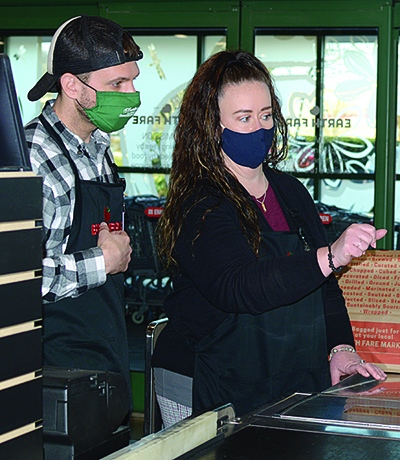 Customers arrived at Earth Fare, 10903 Parkside Drive in Turkey Creek, excited and ready to shop, and the store's associates were eager to serve.

Closed since February 2020, Earth Fare re-opened its doors for business at 8 a.m., Wednesday, Feb. 11.

"I'm absolutely thrilled," Laura Marsh of West Knoxville said while she went through the cashier's station. "I've been waiting. Anyone who is health conscious and concerned for their family, this is the place."

She added that before the store closed it was the only store where she shopped.

"This place looks out for you," Marsh said.

"It's about time," said another customer, who asked not to be identified.

"Yeah!" a different customer exclaimed as she raised her hands up walking through the doors.

"I'm so excited," Betsy Bevis, marketing director, said about the store's re-opening. "This community has been extremely vocal about wanting Earth Fare to come back.

"The local healthcare workers at Tennova (Turkey Creek Medical Center), just down the road, have been very vocal about that," added Bevis, who had been in marketing for four years before Earth Fare closed. "This is a great place for lunch.

"Turkey Creek has been very supportive as well.

The store maintains its philosophy to sell organic-only products, from produce to unbleached wheat.

"Every single thing that we do will always lead back to our food philosophy," Bevis said. "That was one of the things when we opened the doors in 1975 that we have stayed true to.

"You won't find any artificial fats, colors, sweeteners, preservatives, bleached flour — any of that — in our store," she added. "Even all of our food made in our kitchen and on our hot bar, they don't have the artificial colors, preservatives, so we keep it clean."

Although the store closed last February — after Earth Fare declared bankruptcy — Bevis said that was the same time plans for the re-opening began.

"In that process, there were two key local leaders in Asheville, who did not want to see Earth Fare close, so they started the process of gathering funds and understanding the business, and they decided to bring back Earth Fare," Bevis said.

"The plan was not for 50 stores — it was for three to start with — but we've seen a great growth and interest in those stores. Three went to eight and then this (store) is No. 19," she added.

Now owned by hotel and racquet clubs owner Dennis Hulsing, Bevis said he always has been in to health and fitness.

"He was an avid Earth Fare customer," she said. "He just couldn't let (Earth Fare) go, so he bought it out of bankruptcy in an auction. He got all of the property, as well as the name brand and logos.

"This store, in the bankruptcy, was almost destroyed, "Bevis added. "They went through liquidation, and with that they sold off property, cases, aisles, speakers from the ceiling. So, when we knew we wanted to come back here, it was like putting together a Humpty Dumpty, putting all the pieces back together."

The crew started on the store about six months ago.

"It's amazing how this store turned out," Bevis said. "But, this store had a great following. There're a lot of local businesses who support us, as well as guests — customers — and team members.

"We had a lot of team members come back," she added.

The store's hours are from 8 am. to 9 p.m., Monday through Sunday.

"We will open one hour early on Mondays for senior and high-risk shopping," Bevis said.

For more information, call the store at 865-777-3837.