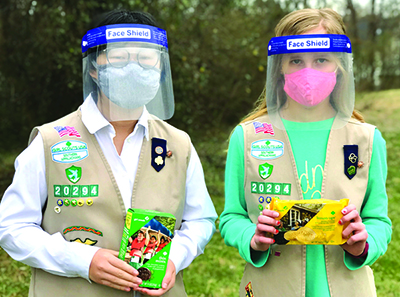 Despite COVID restrictions, Farragut residents still can support their local Girl Scouts in their cookie sales campaign.

The Girl Scouts of the Southern Appalachians are offering online ordering and delivery for its cookies to keep everyone safe during the ongoing pandemic. The cookie sales campaign, which started Jan. 1, allows customers to visit www.iwantcookies.org to place an order that will be shipped immediately to their door, according to a press release from the Girl Scouts of Southern Appalachia Council.

"In years past, it was easy to find Girl Scout cookies, as our confident young girls set up and ran their cookie booths all over town," Lynne Fugate, CEO of the Girl Scouts of the Southern Appalachians, stated in the press release. "While the pandemic has changed that tradition, it remains important that anyone who wants to support the development of these young girls and order cookies can still easily — and safely — do so."

"Each Troop gets to decide how they would like to do the cookie sales given the COVID situation," said Amy Shved, leader of Troop 21110, which meets at Farragut Christian Church. "For troops that wanted to do digital cookie orders, basically, each of the girls had an opportunity to create a profile. They have a link they can share on any social media or through e-mails with friends, family, co-workers, people like that.

"And, if an individual is wanting to support a specific Girl Scout, it's probably just best to contact that girl scout's parents," she added. "They would have the link to their particular profile so they can order directly from that girl; but if not, they can always go to the Girl Scout website and just order through that."

Residents also can support a particular troop by entering their ZIP code into the Girl Scout Cookie Finder on the website, and the program will connect them with a local troop to place their online order.

"You also can access the Girl Scout Cookie Finder by texting 'COOKIES' to 59618 or downloading the Girl Scout Cookie Finder app," Fugate stated.

For Troop 20294, which has been meeting at Farragut's Outdoor Classroom during COVID, their leader Samantha Williams said, "each of our girls have setup a digital cookie site.

"We also have a troop digital site on the national cookie finder," Williams said. "Some of our girls did door-to-door sales and some are being creative, using new cookie door hangers in their neighborhoods."

Cookie choices are Thin Mints, Samoas, Tagalongs, Do-si-dos, Trefoils, Lemon-Ups, Girl Scout S'mores and Toffee-tastic.

Fugate stated orders taken by will be delivered starting Feb. Friday, Feb. 26.

Customers can place orders through Sunday, March 21.