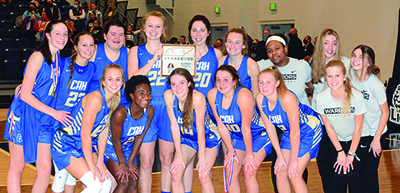 WHITE PINE — While Lakeway Christian Academy star post Maggie Vick sat out much of the first half versus Christian Academy of Knoxville with two fouls, the Lady Warriors played this powerful Region II-A East Division I top seed even for two-and-a-half quarters.

But missing their own standout post, Caroline Meyers, to an injury, and feeling the effects of Lakeway's tighter man-to-man defense during most of the second half, the Lady Lions pulled away for a 69-50 district tourney title win at LCA Friday, Feb. 12.

"We had some girls knock down some shots," said CAK head coach Abby Williams about Lady Warriors guards Emma Carroll (14 points) and Madi Jones (team-high 15), while guard Keira Leffew (12 points) "played really well ... got to the rim."

CAK (19-10), the No. 2 tourney seed, lost both regular season games to LCA decisively.

Pulling away while led by the inside scoring of Vick (17 points) along with forward Nia Ivie, tourney and regular season district MVP (22 points), Lakeway improved to 23-5.