Daughter tells the depth of her mother's loss as fire destroys home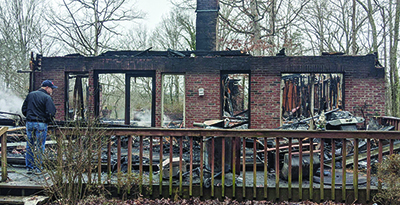 A Choto community resident and her dog were rescued from her burning home Friday morning, Feb. 12 — but the house was a total loss and the fire remains under investigation.

Carole Turk, who is wheelchair-bound, and her dog, Jade, were saved by Rural Metro Fire department firefighters, who arrived at the home, located at 1628 Nighbert Lane, at 4:18 a.m.

"She was at the threshold of her front door, and unable to get out, and our crew with Station 242 helped her to safety," said Jeff Devlin, Rural Metro Fire assistant chief of operations.

"That was, and is, our top priority when we get to the scene, then we concentrated on fighting the fire," he added.

Turk was cared for by neighbors Rick and Ruth Lewis, then later transported to Parkwest Medical Center, where she was treated for smoke inhalation and later released, according to her daughter, Kristy Conklin of Jefferson, Georgia. Turk has since gone to live with her daughter.

"Her neighbors were such a blessing," Conklin said.

At the time crews arrived, the home was already "80 percent engulfed" according to RMF. Their efforts were further hampered when a 2,800-foot fire hose was run over by a car, whose driver did not stop.

The hose was "busted" and likely damaged the vehicle, RMFD reported.

"Someone came around a curve and not only hit the hose, but dragged it, and that caused it to burst," Devlin said.

"We were already 2,300 feet from the hydrant, so we had to set up a relay pump, which is not something that happens super quick," he added. "Unfortunately, this delay allowed the fire to grow and damage more of the home that may not have been damaged had the supply line not been driven over and destroyed.

"Please do not drive over fire hoses in the streets. If you don't know what it is, don't drive over it."

He said the fire is under the investigation by Knox County Sheriff's Office fire marshal.

Coping, Go Fund Me set up

The house fire was just the latest recent blow for Turk and her family, as she lost her husband, Jim Turk, Jan. 5.

"It's just been one thing after another," her daughter said Monday, Feb. 15.

The Turks had lived in their home for 27 years, and Conklin said her mother "lost everything.

"We are so thankful she and her puppy are OK, but she only got out with the clothes on her back and is basically going to have to start over," the daughter added.

"She doesn't know what caused the fire. She said she heard a 'pop, pop, pop' then a loud 'whoosh,' which woke her up. The next thing she knew, she saw flames."

A family friend, Margaret Marsh, set up a Go Fund Me account over the weekend to help Turk move forward.

"She is going to need everything," Conklin said. "We had to go buy her new clothes over the weekend, but she will also need furniture and other items in the future because we are hoping to get her into a retirement community or an apartment."

To make a donation, visit https://gofundme/fa531771.