Abbott spells out Boy Scout lessons learned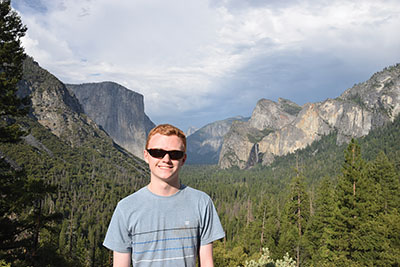 Farragut Boy Scout Evan Abbott recently earned the rank of Eagle Scout after helping renovate the youth area of his church, Robertsville Baptist Church in Oak Ridge, as an Eagle Scout project.

Abbott, son of Jack and Darlene Abbott of Farragut, is a member of the Great Smoky Mountain Council Toqua District Troop 444, sponsored by Farragut Presbyterian Church.

As part of the project, he designed and constructed a cabinet and countertop in the youth area, installed new flooring in the food service room and painted the game room.

"Our youth group used the area frequently (until the pandemic), and I thought giving back to my church would be a gift to our youth groups for years to come," Abbott said. "I started visualizing and planning the project in 2018, but the project began at the church on May 4, 2019."

He completed the remodel May 27, 2019, and earned his Eagle Scout award in December 2020. Abbott was presented his Eagle Scout award at Farragut Presbyterian Church Tuesday, Feb. 23.

From completing the project, Abbott said, "I learned the value of planning, communication and teamwork. "We had teams of people helping, from building the cabinets and painting the walls and cabinets to installing vinyl flooring and installing the counter tops," he said. "It was really great to see how everything came together."

Abbott has been in scouting since he was 7 years old.

"Scouting has provided me with friendships, experiences and goals toward personal achievement," he said. "Scouting encouraged me to always be and do my very best."

"We are very proud of Evan's hard work and his sincere heart to serve God, others and his community," his father said. "This project has provided a welcoming space for the youth of our church to enjoy.

"Our prayer is that Evan continues to seek God's direction in his life and continues to enjoy serving others in creative ways," Jack added. "Evan believes that Scouting has helped him develop leadership skills and find solutions to challenging tasks."

The Boy Scout said his favorite part of scouting was an activity at the waterfront of camp, and his favorite trip was climbing Castle Rock at Frozen Head State Park. This summer, he toured in Sequoia, Kings Canyon and Yosemite National Parks with his family.

The Abbots have gotten feedback about the project.

"The youth were part of the team on this project," Jack said. "The project brought the youth group together to serve each other and to work together for a common goal: it's what we're all about. By participating in the project, the youth were able to take some ownership in the outcome," he said. "So, the youth love it.

"The church was and is very supportive of all of our youth projects," the father added. "So, we had other church members participate in the remodel as well. It's a wonderful asset to our youth area."

A junior at Farragut High School, Evan Abbott also is a member of the Order of the Arrow and the Honor Society for Scouting.

He is considering studying psychology after high school.