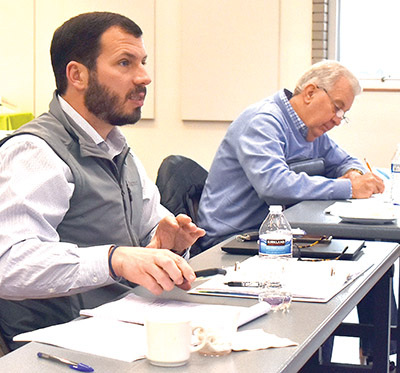 Farragut's Board of Mayor and Aldermen met in-person for the first time in nearly a year Friday, Feb. 19, for its annual Strategic Planning Retreat, evaluating the last year's accomplishments and considering goals in the year ahead as staff works on the Fiscal Year 2022 budget.

Department heads were on hand for any questions arising during the meeting, which was possibly a "dress rehearsal" of what in-person meetings will resemble when they resume.

Tax boost

David Smoak, Town administrator, reported that while budget cuts were necessary last year after COVID hit, the Town "headed into this year with more of a flat budget" as sales tax revenues are "5 percent head of last year."

Aldermen, Mayor's goals

BOMA members previously submitted priorities they would like to see in the year ahead, with many having similar choices.

Traffic mitigation was top of mind for the majority of the Board, with Alderman Scott Meyer asking for data concerning both Grigsby Chapel Road traffic and school congestion.

"I would like to see a traffic light or stop sign at the intersection of Fretz and Grigsby Chapel (roads)," Meyer said. "Those people really need some relief and that needs to be a priority."

One of Vice Mayor Louise Povlin's top concerns is how best to address pedestrian safety, not only near schools, but also in the Town Center designated areas, which are seeing more development.

She also proposed constructing a sidewalk along Sonja Drive from Admiral Road to Dundee Road to help with student foot traffic.

Increasing connectivity between Town greenways also was singled out as a priority, along with a need for a comprehensive Economic Development Strategic plan and continued focus on the Town's stormwater infrastructure.

Povlin also successfully lobbied to include establishing Town neighborhood partnerships under a subheading within the Town's Comprehensive Strategic Planning Framework.

While the grounds and building exterior have been completed, a need to determine specific uses for the Campbell Station Inn also was selected as a priority.

A full crew

Mayor Ron Williams and Aldermen Drew Burnette and Ron Pinchok joined Povlin and Meyer, as each was seated 6 feet apart in the Assembly Room in the Farragut Community Center.

While Smoak facilitated the meeting, others attending included assistant to the Town administrator Trevor Hobbs; director of Parks & Recreation Sue Stuhl; Town engineer Darryl Smith, assistant Town engineer Brannon Tupper, Community Development director Mark Shipley and Public Works director Bud McKelvey..

Williams has previously discussed the probability that BOMA and other public meetings would be taking place in the Community Center rather than the Town Hall Board Room when live meetings resume — although virtual meetings are still permitted under Gov. Bill Lee's Executive Orders.

The meeting lasted until after 4 p.m., with Burnette suggesting the meeting went so well he would like to see the group meet in strategic planning sessions at least twice a year.