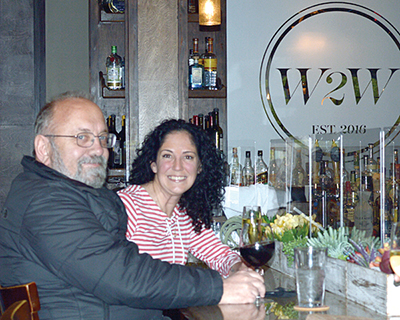 The last five years for Water Into Wine bistro & lounge have been emotional ones for owner Candace Viox.

"It is so hard to believe that 10 years ago, on May 9, 2011, my life changed forever," she reflected with tears in her eyes. After the loss of her mother, Viox had to find a purpose. She found that in 2016, when she opened Water Into Wine in Farragut, which serves not only as a restaurant but also a ministry, offering Bible study classes.

Viox is inviting the community to share in her anniversary milestone with a celebration from 5 to 7 p.m., Monday, May 10, in the shopping center's parking lot, 607 N. Campbell Station Road, Farragut.

"We're going to do cornhole tournaments; we're going to have a deejay," she said. "A lot of my distributing partners and wine suppliers are coming and bringing free gifts, like hats, pens and calendars, as a way of also telling the community 'thank you' for supporting Water Into Wine.

"We're doing a Havana Nights theme," Viox added. "Kevin (Thompson, bar manager) is from Miami. He's going to be doing a fun Miami theme of a mojito bar outside" with a Miami-Cuban menu and drinks. While admission, as well as cake and cupcakes, are free, the food on the restaurant menu and alcohol are available for purchase. She encourages patrons to dress in the Miami theme.

While the event will be both outdoor and indoor, Viox said, "All Occasion rentals, with the help of Sam Mishu, owner (of the shopping center), will be setting up a large outdoor tent and fencing for social distancing protocol, and several guests of honor have been invited. ..."

Looking back, a tearful Viox said, "The journey of Water Into Wine has become a large part of my personal story, and I am forever grateful to everyone who has been a part of our story."

Regular hours are from 3 to 11 p.m., Mondays; 11 a.m. to 11 p.m., Tuesday through Saturday; and closed Sundays. For more information about the event, call 865-392-1586.