Mary Ann Dodgen Azalea Garden being planted at school to honor Donald Dodgen's hoops advisor, helper, wife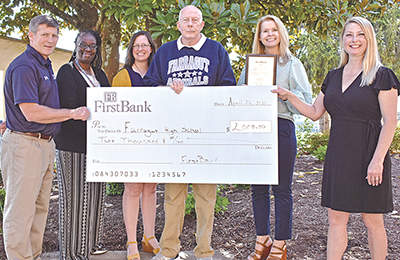 Even though he's only worked part-time at Farragut High School in recent years, athletic director Donald Dodgen typically is one of the first to arrive daily on the FHS campus.

With that in mind, principal Dr. John Bartlett wanted to make sure Dodgen — a highly successful varsity boys basketball head coach at the school from 1996 to 2010 — is greeted every morning with sweet reminders of his late wife.

Mary Ann Dodgen, who passed away in February, not only was a loving influence on his life, but also helped foster his coaching success at FHS and elsewhere.

Thus, the Mary Ann Dodgen Azalea Garden is being developed in front of Lynn E. Sexton Gymnasium/Vickie B. Wells Auditorium.

While Mary Ann's official role was stat keeper for varsity boys basketball during Dodgen's coaching years at FHS, "My wife was such a big part of this school," the coach said.

Overall as a basketball advisor and helper, "She knew as much basketball as I knew," Dodgen said. "She'd been with me for 50 years; she was with me when I was coaching college (Tennessee Wesleyan in Athens), and my days when I was at McMinn County High School and Gatlinburg-Pittman.

"She'd make little comments like, 'you may want to change this, you might want to change that,'" he added. "She knew what she was talking about; she was a very smart lady."

"As he arrives, it was imperative for us to have a small piece of Mary Ann greeting him on the FHS campus," Dr. John Bartlett, FHS principal, wrote in a letter to Terry Smiley, FirstBank Farragut's branch financial center manager, on securing a $2,000 donation.

Smiley and her supervisor, Donnie Henry, officially presented the donation Monday morning, April 26, at the Garden site where azaleas already have been planted.

"We are creating the Mary Ann Dodgen Garden to reflect all of her favorites to welcome her husband every morning," Bartlett said. "Her favorite bush was the azalea, her favorite tree was the red bud, and favorite flower was the daisy."

Bartlett said in addition to the Garden spot itself, two red bud trees have been planted in the outer circle of the main parking lot, in front of Dodgen's parking spot, and daisies will be planted alongside.

"She loved this time of year, and really loved gardening and loved planting flowers," said Dodgen, who is serving his 25th school year at FHS, adding plans call for two benches to be placed in the Garden.

Saying he appreciates the support of Bartlett, FirstBank and others at the school making this happen, Dodgen added, "We are just one big family here, and I can't say enough about everyone's support."

"We are so glad we were able to help make this Garden a reality," Henry said.