Matt Stillwell brings 'House Party Tour' concert to CCS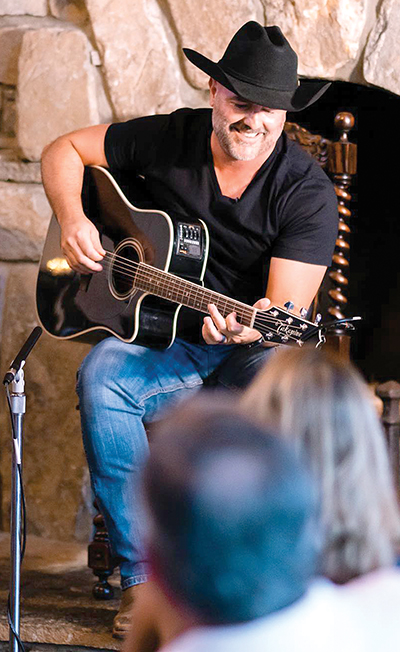 Country music artist Matt Stillwell is bringing his "Hometown House Party Tour" to Concord Christian School from 11:30 a.m. to 12:30 p.m., Friday, May 7.

The event will celebrate CCS's Elementary School Field Day, as well as concluding a "successful school year," said Lorna Keeton, CCS's director of marketing and development, who has come to know Stillwell and his family through joint membership at First Baptist Concord.

A native of Sylva, North Carolina, Stillwell has been touring nationally for more than a decade, building a strong fan base, with the unwavering support of his wife, Lindsey Stillwell, who works at CCS Preschool, and their daughters, Carolina and Ruby, who attend CCS.

Originally, Stillwell thought baseball would be his future, having been a baseball star at Western Carolina University, then a top 25 program. "Baseball was my world, but fate and a shoulder injury ultimately sidelined my baseball plans," he said.

That's when music began to take center stage.

After graduating from Western Carolina, Stillwell moved to Knoxville and began working for life-long friends Benjie and Heath Shuler, both of UT Vols Football fame, at Heath Shuler Real Estate.

"I had recorded a gospel project with Cooter Daniels at his 5th & Gill Studio here in Knoxville, and began singing on most weekends," he said. "I loved it, but that didn't work too well with selling real estate obviously."

Stillwell had a "moment" one Sunday night at a concert where Jill Phillips, a recent graduate of Belmont University in Nashville, was the opening act.

"That particular weekend I had heard about Belmont at least 10 times and then got home and the girl opening had just graduated from there," he recalled. "I sat in the parking lot with Benjie and told him what I wanted to do, and by 3 p.m. the next day I was enrolled in Belmont University and had an apartment in Nashville.

"I enrolled to make my mom feel better about me moving to Nashville, but after one semester I realized I could take lessons from the same instructors for half the price, so I did that for another semester," Stillwell added.

"I buckled down, learned how to write, play guitar and then sing and play guiar at the same time. I treated it like baseball and practiced constantly. Still do. I finally got good enough to start playing live. I would ask my former teammates across the Southeast where they liked to go out, and I'd call that venue and try to get booked. I knew if I played there, at least my friends would come."

They sure did, as did many others.

Soon after, while working a temp job, Stillwell connected with Knoxville native Lynn Hutton. That began a great friendship and creative partnership that continues today.

Hutton is a frequent co-writer of Stillwell's, and also serves as his producer. He is credited on Stillwell's songs, "Shine," "Hey Dad," "I'm A Vol For Life Y'all" and more.

Stillwell released his "Shine Deluxe" album 10 years ago last week, and it "changed everything," he said. Three songs reached No. 51 on the Billboard Country Charts, and six videos reached the Top 10 on Country Music Television and Great American Country.

That's not bad for a completely independent artist. He runs his own label and manages and books himself.

Stillwell took a personal blow when his father passed away Dec. 13, 2014. Hutton took charge in guiding Stillwell to write a song about the aftermath.

The result, "Hey Dad," based on the conversation Stillwell would have if he could call his father one last time, took the singer into a different direction yet again.

"That song continues to grow everyday, with people e-mailing, commenting or coming to shows to tell me about their dads," he said. "It's connected in a powerful way and given me a glimpse of the true power of music."

He is releasing a new "Hey Dad (2021)" in June.

Another tune likely familiar to Tennessee fans especially, "I'm a Vol for Life Y'all," is played in Neyland Stadium during football games and on the radio across the state and Southeastern region.

Stillwell's "Hometown House Party Tour" has a unique and relevant story. In 2019, he stripped away his bus and bandmates, down to just him and his guitar, for the marketing around his song, "Everybody's Got A Hometown." He played from New York City to Los Angeles and everywhere in between right up until COVID-19 hit.

"Twenty shows went away in about 10 minutes," he recalled. "Crazy, but a friend of mine asked me to come to St Louis and ride around on a Christmas float, playing music in neighborhoods for everyone that had just been quarantined. We called it the 'Stay Home Tour,' and it was awesome."

Following that, he doubled down and had a porch concessions trailer built that now serves as his stage, sound, lights and merchandise booth. He carries a generator and is completely mobile, and was able to play safe outdoor shows nationwide in 2020.

Stilwell said he's as busy as he's ever been now, by figuring out a way to continue making a living and bringing his story and music to the people.

"It's part Bluebird Cafe and part House Party," he said of the intimate Hometown House Party Tour.

It will be that same "Hometown House Party" Stillwell brings to CCS Friday, with May 14 a rain date. He hopes to make it an annual event.

To find out more about Stillwell, who is planning new music and is helping give away a wedding at a North Carolina resort, visit his website, www.mattstillwellmusic.net, or on his Facebook and Instagram pages; @mattstillwellmusic.