Sandy Floral Design offers walls for all special occasions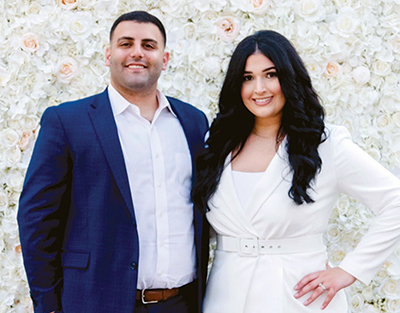 Sandy Saah and husband, Alexander Saah, have launched a new event rental business, Sandy Floral Design, catering to weddings and other special events.

The business, with a showroom at The Julianna, 9111 Hunter Valley Lane off Northshore Drive, provides clients with a highly curated rental collection of silk floral walls.

"Sandy Floral Design is the first and only business in the entire state of Tennessee that offers couture silk flower walls, so we feel it is a much-needed niche," said Sandy, the designer, who added, "No two walls are alike; they each consist of different flowers."

Clients can choose from roses, orchids, peonies and hydrangea among many others.

"I handcraft the walls with only the highest quality of silk flowers," Sandy said. "My husband and I travel to different states to get our materials."

She designs the walls for weddings, bridal showers, rehearsal dinners, baby showers, birthday parties, corporate events, fundraisers and rehearsal dinners among others, as well as for home and office interior customers.

The Saahs launched their silk floral wall business April 9.

"I feel good (about the business)," Sandy said. "It's exciting. I'm truly passionate about what I do."

Sandy is the mastermind behind the floral design while Alexander masterminds the architectural structures. Together, they make the perfect team as a husband-and-wife duo.

The idea came about after the Saahs' own wedding.

"My husband and I got married this past August in Philadelphia, where I was born and raised," Sandy said. "We had a floral wall at our wedding, and we absolutely loved it – it truly transformed the entire room.

"It really provided a luxury experience," she added. "The floral wall was a spectacular way to create a focal point at our wedding, and our guests loved it."

As such, "I wanted to give future brides the same experience I had," Sandy said. "I also expanded my silk floral wall line to cater to all special events, providing floral walls in a variety of different sizes and colors for any occasion."

The concept behind Sandy Floral Design is flowers that never fade, Sandy said.

"I have worked with some of the top floral designers in the country to perfect my floral walls," Sandy said. "My silk floral walls are handcrafted from the highest quality of silk florals.

"My husband and I travel to different states to get our materials," she added.

"Here at Sandy Floral Design, we understand the importance of creating a memorable experience that will represent your special event and encourage your guests to capture the moment. Renting a flower wall for an event will elevate your space and bring your event to a whole new level of excitement and engagement."



Sandy also specializes in event planning and weddings since she is fully in the event industry. Aside from floral designing, she also is the owner of Makeup by Sandy, as well as a facility consultant at The Julianna, an event venue in West Knoxville.

Attending West Chester University, Sandy obtained her bachelor's degree in business administration in 2019.

She differentiates herself, Sandy said, from the average florist with her custom silk floral walls. With her signature obsession to detail, Sandy said she works closely with each client to identify their needs, minimize costs and exceed expectations.

Sandy Floral Design walls are available by appointment only. Current and potential customers can send an e-mail to info@ssandyfloraldesign.com or call 865-385-1624.

She also is available on Facebook and Instagram at Sandy Floral Design.