Strong 2-0 postseason start for red-hot Lady Ads softball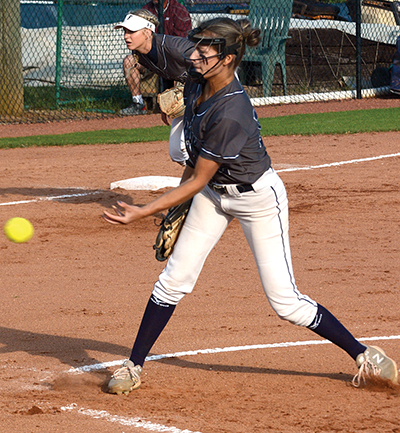 For most of this season, rainy weather or the school's prom have been the only things slowing down the Farragut Lady Ads' softball express.

Winning its first two District 4-AAA Tournament games by a combined 31-0, the last being a 9-0 victory against No. 4 seed Heritage Thursday, May 6, the top-seeded Lady Ads — still unbeaten as press deadline against 4-AAA opponents this season at 16-0 (28-2 overall) — look to add a district tourney title to its league crown by week's end.

"We're doing pretty good," said FHS head coach Nick Green, 4-AAA Coach of the Year. "We're hitting the ball, pitching great, playing good defense."

Next up: a winner's bracket game versus No. 3-seed William Blount Tuesday, May 11, at Bearden (after deadline).

Against the Lady Mountaineers, junior lefty and staff ace Avery Flatford, 4-AAA Pitcher of the Year, went the distance, allowing just two hits and three walks with 12 strikeouts — setting down 12 of the final 13 HHS batters.

A nice diving grab by catcher Autumn Caywood was a defensive highlight.

Offensively, Avery "Ace" Strickland led with three hits, including a double. Ava Guzowski added two hits, including a double, while Lauren Brakovec blasted a two-run homer. Single hits came from Young, Hannah Pfeifer (RBI), Caywood, Sarah Livingston (RBI), Emily Musco and Jordan Kanipe (RBI).