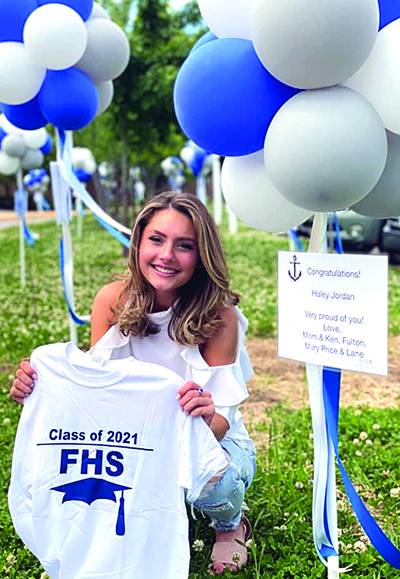 Farragut High School seniors visited their school — many for the last time until graduation Sunday, June 6 — Friday, May 14, for "Anchors Away Senior Day" to pick up their caps, gowns, yearbooks, pay final fees and turn in computers.

Two hundred of those students enjoyed a special treat from their parents and a local business.

As they turned onto Lendon Welch Way, right before their eyes was an array of blue and white Senior Spirit Balls lining both sides of the circular driveway in front of the school. Each was personalized with the senior's name and a congratulatory message from a loved one or close friend.

The arrangements represented "such joy to celebrate the end of a very stressful school year and the culmination of their high school years," said local balloon artist Dianna Glandon, owner of Above the Rest Balloons, which partnered with FHS parents and administration to arrange Friday's celebration.

"I felt this was much needed after the tumultuous, unprecedented year of mandates, extra rules and regulations, lack of traditional school functions and activities the students have endured," she added.

Additionally, her company donated 45 percent of the arrangement sales back to FHS to help defray graduation expenses and also assist students who may need help with senior costs, and presented a check for $5,400 to FHS administrators and student volunteers Friday morning.

Parents ordered the Senior Sprit Balls prior to the event. "This has made it an extremely easy fundraiser for the school and a complete surprise for the students," Glandon said, noting several FHS students helped with the 6 a.m. installation.

"There was an immediate positive response from the parents who very much wanted to help celebrate their seniors and get to support the school," she added.

For more information, visit www.abovetheresteventdesigns.com or e-mail dianna@abovetheresteventdesigns.