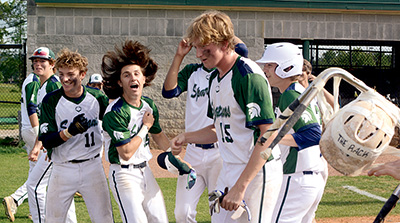 The guy who started the big seventh-inning rally also shut the door, defensively, with his pitching. Jackson Musrock was a rested reliever.

The guy who ended that same rally, with his game-winning RBI single up the middle, was the man of the hour in a wild victory celebration that included earning the right to wear a victory chain and the team's special "The Rack" helmet. But Graham Lischer was just relieved he could rest easy.

Webb School of Knoxville's advancement into a best-two-of-three Division II-A baseball substate round was made possible thanks to a four-run rally in the bottom of the seventh, erasing a 4-1 deficit versus Clarksville Academy, for a 5-4 home win Saturday afternoon, May 15.

A leadoff double to deep center field from Musrock, a star shortstop who signed with Memphis University, ignited the late rally, while the senior kept the Cougars (23-12) from adding runs with 2 2/3 innings of unblemished relief work.

A critical shortstop error — dropping a possible double-play ball — greatly aided Webb's rally, plus singles from Blake Hale and Julian Mays, came before Carter Musrock's two RBI single down the third-base line to tie the game 4-4. That set the stage for Lischer.

"A guy that early in the game has a mistake, but gets an opportunity late in the game to win it for his team and goes out and does it," Webb head coach Clark Wormsley said of Lischer's throwing error that led to an unearned Clarksville run in the third inning. "… He did a fantastic job of battling through it and coming up big for his team in the end."

"I had a tough error that cost us a run … the whole rest of the game I was like, 'man, I hope a get a chance' to make up for it," Lischer said. "Finally, I get the pitch I wanted and it went up the middle."

Ford Wagner was credited with an RBI on the shortstop's error. Baker Wooten drew a seventh-inning walk.

The Spartans' first run came in the sixth on consecutive singles by Jackson Musrock, Hale and Wagner (RBI). Riley George added a second-inning single, while Hale's three-hit game also included smacking a double in the third inning.

On the mound, Jackson retired all eight batters he faced, six by strikeout, for the Spartans (18-8), who head to Memphis as the No. 2 East seed to play West No. 2 seed Northpoint Christian in a doubleheader Thursday (today), May 20, and, if necessary, a deciding third game Friday, May 21.

"I know I have a great defense behind me," Jackson said. "And I knew at some point in the game our offense was going to pick it up."

"That's only his third outing on the mound all year," Wormsley said of Jackson. "With his arm and his value at shortstop, we wanted to protect him and keep him in shape and keep him fresh for the post-season. We started bullpening him a couple of weeks ago to get him ready for a situation like this."

"His velocity was very good … and his breaking pitch is very sharp," the Webb coach added.

Clarksville perspective

"We told our kids, 'if you're going to learn something from this game, look over there at those guys who didn't quit,'" said Clarksville Academy head coach Dustin Smith, whose starting unit featured six sophomores plus one eighth-grader, he added.