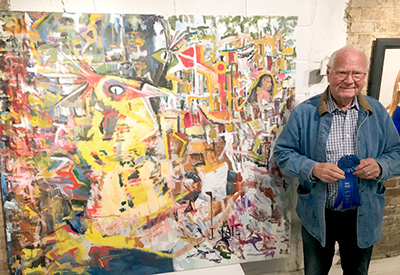 At age 85, Joe Tate recently was recognized as first-place winner of the Tennessee Artists Association juried art show.

A real estate developer who's a former Knox County Schools principal and director of New Development at Tate's School in Cedar Bluff, Tate's 30-square-foot blue-ribbon-winning oil painting entitled "Paradise," an abstract piece inspired by real objects, was the focus of Dogwoods Arts Spring Art Show at the Emporium Center for Arts & Culture along Gay Street.

"The solitude that COVID-19 created inspired me to really focus on my painting," Tate said. " I work on several paintings at a time and images start to come to me as I paint, like the birds in 'Paradise.' I love color as you can see, and I am honored by this recognition."

A self-taught artist, his favorite subjects are folksy from rural America that combine realism with surrealist elements. He also has been inspired by his travel to Israel, Cuba, Europe, and Alaska.

Tate has won regional awards at fine art shows at the Oak Ridge Art Center and the Fountain City Art Center. Some of his work currently is available at the Art Haven Design Gallery along North Cedar Bluff Road.

"I encourage everyone to explore art, at any age. There is so much to learn, even at 85 ...," he said.

Tate realized his love for painting after winning a state watercolor contest in fifth-grade at West School Elementary in Jonesboro, Arkansas.