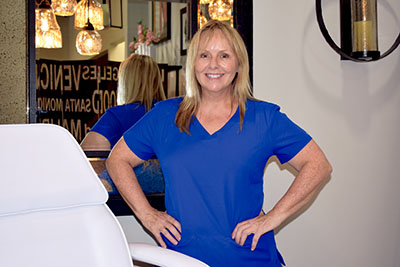 Karen Cooke-Franqui is doing her part to ensure both men and women look and feel their absolute best.

Concerned with aging, weight and hormone issues, which she can personally help address as a nurse practitioner and certified injectionist, the Farragut resident is starting her own business, Adam Eve Medispa, in Studio 135 in West End Center, beginning with a "soft opening" from 4 to 6 p.m., Thursday, May 27.

The enterprise will offer weight loss programs and bioidentical hormone replacement, along with all types of injections, including Botox and similar fillers, in addition to sexual disfunction treatments for both genders.

What sets Adam Eve Medispa apart is its unisex focus, Cooke-Franqui explained.

"A lot of places offer services for women, but more and more men are interested in how they look and feel, too," she said. "There is a huge and growing market for grooming products and ways to fight the signs of aging."

For example, weight issues certainly affect both genders.

"A lot of weight gain has to do with hormonal changes and insulin resistance," Cooke-Franqui said, noting she will be able to do blood work through her Medispa to better identify which plan or program could help.

"I will also be offering a bone broth diet program (one of two weight loss programs her business has), which has generated a lot of press recently because it seems to be seeing good results," she added. "It helps heal leaky gut issues that affect many people who are trying to lose weight."

Cooke-Franqui also provides meal plans and coaching along with the actual products.

Her work with biodentical hormones aim to help women "turn the clock back to where they were before menopause," and she is able to determine which products are best using blood or saliva testing.

Cooke-Franqui's work progression has been a natural one, with a family history of serving others. The Irish immigrant moved to the United States more than 20 years ago and has lived in Knoxville since 2006. "I love this area, it reminds me of Ireland."

"The rest of my family are all nurses, and knew it was something I wanted to pursue myself but I was a late bloomer."

Cooke-Franqui did attend school later in life, and her initial work was with urgent care and pain management patients, in whom she saw issues she will be helping treat at the Medispa.

"So many men would complain about how their pain medications contributed to erectile disfunction issues," Cooke-Franqui said. "And it's very true opioid treatment reduces testosterone, which in turn can lead to ED and loss of libido."

Over the last year, as she became trained and certified, she discussed her thoughts and plans with Studio 135 owner Jessica Moore, who suggested she open her new business in a private suite within the salon.

Already a client of the Studio, both Cooke-Franqui and Moore saw the natural symmetry of offering these additional services in a beauty-centric setting.

"We're in the beauty business here, and it goes hand in hand with what we already provide," said Moore. "We have wanted to provide aesthetic services here for some time. It really benefits her as well as us, and we are really excited about this."

"I love this location, too," said Cooke-Franqui. "My whole life is in Farragut, and this place already felt so familiar and homelike to me, I'm just so glad to be here."

For more information, visit the AE Medispa page on Facebook or call 865-466-4393.