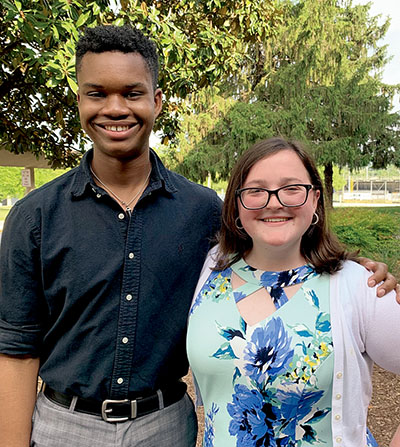 Michael David Greene Scholarship recipients Sarah Grace Hampton and Terrance Anthony Jones, both seniors, were featured during Farragut High School's annual Band Banquet Saturday, May 8, in the school's Vickie B. Wells Auditorium.

Presented by Michael David's parents, David and Janet Greene, Jones and Hampton earned this honor, a $4,000 scholarship, based on "their real and fervent effort, kindness, courage, determination and dignity," an FHS press release stated.  

Jones

Jones, who played trombone in the Admirals Marching Band and FHS Concert Band, has been awarded a place in the TN All-East Band. He also plays cello and baritone in the Knoxville Symphony Youth Orchestra, Knoxville Junior Youth Orchestra, and played with FHS band low brass, and FHS orchestra along with Farragut theater. He also is associated with Tennessee Music Education Association.

Jones plans to attend the University of Tennessee and major in pre-profession medicine. His parents are Katherine Wilson and Anthony Jones.

Hampton

Hampton
 played clarinet in the Marching Admirals Band and Wind Ensemble. She plans to attend East Tennessee State University — where she has been selected to the Changemakers Scholar Program, a part of the Honors College at ETSU — and major in psychology. Her parents are Trudy and Charles Hampton.

Overall numbers

Fifty-four Farragut seniors have been awarded the scholarship, which was established in 1995 in memory of Michael David, who played trumpet in the FHS band.