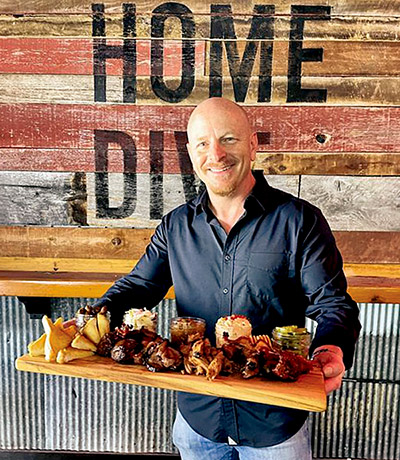 A new concept is coming to 11335 Campbell Lakes Drive, located just off North Campbell Station Road.

Dave McFarland, owner, is introducing Daddy Mac's Down Home Dive, a "brand new concept with generations in the making" with an opening planned for Monday, June 14.

"We're excited to introduce Knoxville to a new place where folks can gather, swap stories and have some fun, especially now, when we can all finally get back together and feel like a family," McFarland added.

Daddy Mac's will offer a modern take on Southern hospitality with a menu deeply rooted in recipes and personalities of McFarland's grandparents, Charles and Faye McFarland and James and Mildred "Nana and Papa" Hancock. The name, Daddy Mac's was inspired by McFarland's grandfather, Charles McFarland, who taught him the value of hard work.

"I'm proud to say that Daddy Mac's is inspired by my grandparents," he said. "We will be serving creative Southern pub fare, a menu full of crafty shareables, handhelds, smash burgers, barbecue and even a salad bar in a jar.

"We're looking forward to introducing Knoxville to a brand new place full of tradition," he added.

Owner of Wild Wings Café, which closed in March, McFarland said he had been thinking about the Southern pub fare concept since 2016, but the past year gave him an opportunity to "reflect and think about what's really important – who I am, where I came from."

While he thanked Farragut patrons for the 14 "incredible" years with his former business, the North Carolina native said, "I think it was just the right time" to change out the restaurants.

"Along with a menu, where everything's made from scratch, including the smoked meats, on their Bar-B-Cue-Terie Board, Mama's Got Mac mac 'n cheese skillets and their existing shareables for the table, Daddy Mac's also will serve local and proprietary craft beers and cocktails," a press release stated.

McFarland said there will be live music throughout the week and Daddy Mac's also will feature more than 50 televisions, as "we also intend to host viewing parties for your favorite sports and special events of their own sprinkled through out the year."

Additionally, Daddy Mac's will feature indoor and outdoor seating, a bar both inside and on the patio, a space for private events and stage to host the live music.

While he offers a carryout out option, McFarland said he wants people to come in an experience Daddy Mac's.

The restaurant will be open from 11 a.m. to 1 a.m., Sunday through Thursday, and from 11 a.m. to 2 a.m., Friday and Saturday.

For more information, call 865-288-0088, e-mail to social2eatatdaddymacs.com, visit online at EatAtDaddyMacs.com or visit its Facebook page, facebook.com/EatAtDaddyMacs, and Instagram, @eatatdaddymacs. For menu preview, visit EatAtDaddyMacs.com/menu.