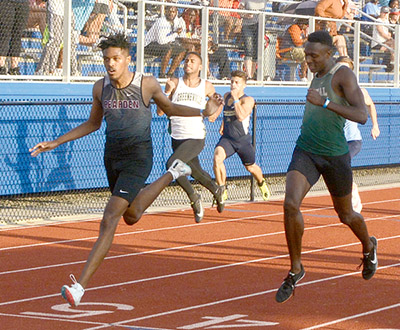 MURFREESBORO — Bearden senior Christian Langlois joined Christian Academy of Knoxville junior Ethan Fulford and a really young athlete to succeed on a high school state championship level, Webb School of Knoxville eighth-grader Lennox Langham, as double winners at the TSSAA track & field state meet at Rockvale High School last week.

Langlois proved to be a state champ in the two Division 1-Large sprinting events, 100- and 200-meter dashes to score all 20 team points for the BHS boys Thursday, May 27

The senior raced to the 100 state crown in 10.43 seconds, while capturing the 200 top place in 21.09.

Hurdles success fueled Fulford at the Division II-A boys meet, winning the 110-hurdles in 15.89, then grabbing gold in the 300 hurdles at 40.72 to help CAK finish fourth as a boys team (57 points) Wednesday, May 26.

A pair of "jumping" field events was Langham's specialty, winning the Division-II-A girls long jump at 16-08.75-feet, then claiming the triple jump state crown at 36-05.00.

The Webb girls' 4 X 800 relay foursome (10.03.31), which was state champs, also helped the team capture fourth place (71).

Another local track and field state champs was CAK senior Olivia Rodgers, winning the 400 run (58.90), as her Lady Warriors team finished eighth (32.50).