Romain long jump, 4 X 100 both 2nd for Lady Hawks; pole vault pair, 4 X 800 runner-up tops for No. 6 FHS girls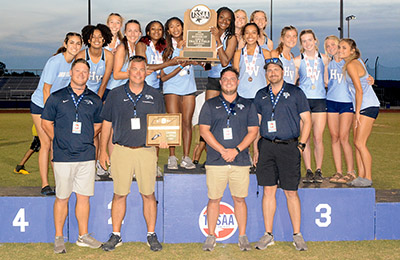 MURFREESBORO — Track and field can be a misleading sport when checking out the team points scoreboard.

With just one event left, Hardin Valley Academy's girls were on top by three points versus runner-up Brentwood (66-63) at the Division I-A Large state meet at Rockvale High School Thursday evening, May 27.

But the Lady Bruins were the heavy favorite to win that final event, the 4 X 400-meter relay, while — based on Sectional 1-AAA times — the Lady Hawks weren't expected to score big.

That's what happened, as Brentwood easily won that relay, and the state crown, 73-66 versus runner-up HVA.

"That did not surprise me, they're the No. 1 seed," Hardin Valley head coach Bryan Brown said about the Lady Bruins' 4 X 400 and the final team results.

However, "Anytime you can come away with a state trophy is a good day," the HVA coach said. "I'm very proud of our girls, we competed hard in every event. Did well across the board."

Individually and relay-wise, junior Sidnee Stanton "was state champion in the triple jump (37-09.00 feet)," Brown said. Senior Dominique Romain finished second in long jump (18-04.50 feet) and third in the 100 (12.19). Junior Madison Romain placed second in 300-hurdles (45.44).

"We had a couple of relays that did very well," Brown said, as Hardin Valley's 4 X 100 relay team was runner-up (48.12) to Cleveland, while its 4 X 200 relay captured third (1:43.00).

"Had a freshman step up big in the shot put and get fourth-place," Brown said of Gracie Waite. "She had a huge (personal record) for that (37.08.00 feet)."

HVA boys

Hardin Valley's boys finished fifth in state (35 points) behind state champ Bartlett (69).

"We had some obviously good events for the boys," Brown said. "I thought we left a few points out there in a few areas, but I'm very proud of the season we've had."

Overall

With the HVA boys and Lady Hawks both Sectional 1-AAA and KIL champs this season, "To only get beat by a few schools all season is a great accomplishment for both our boys and girls," Brown said.

Farragut results

Finishing sixth in the state (32), the Farragut girls team was led by its second-place 4 X 800 relay team (9:35.28) and a second-place tie in pole vault between junior Laura Speth and sophomore Samantha Harvey (10.00 feet).

The FHS boys finished ninth.