Carington Health Services opens near Town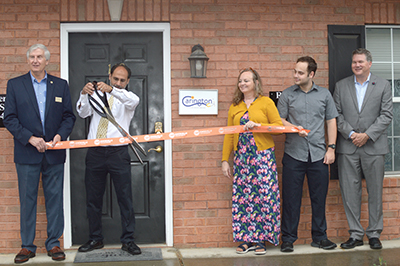 Dr. Saleh Shahid is bringing a unique form of medical care to the West Knox County area as he opens his practice, Carington Health Services to 149 Durwood Road, near Farragut.

A ribbon cutting for the new office took place Monday, June 7, featuring Knox County dignitaries and Knoxville Chamber of Commerce members.

Shahid, an internal medicine physician, has adopted the direct primary care model to help provide savings to his patients. He found out about the model through his roommate from medical school.

"Direct Primary Care is a relatively new twist on an old idea," he said. "It returns a semblance of capitalism to the business of medical care and thereby drastically improves both quality and affordability.

"It does so by including most services and visits for a low, monthly membership fee," Shahid explained. "We don't take insurance. You pay a monthly fee, about $70, and for that you see me when you need to see me."

He said he could spend a half hour to an hour with a patient with the direct primary care method. He also provides medications through his office rather than sending patients to the drug store.

With the model, "you've got the (doctor's) employers, the insurance companies and lawyers off your back because you are not signing all these contracts," he said. "Because you don't have to hire all this staff and dedicate all this time to please these entities, what happens is people who practice this way manage to make a living with 300 or 400 patients."

"Too many good doctors deliver inadequate care because they don't see a better way," Shadid added. "But there is. I'm glad I discovered DPC before I got any older."

Shahid said direct primary care actually is not new.

"It's been around for about a decade now," he added.

In the medical field, "I've had several jobs and … the demands of the employers, the government and insurance companies kept growing and growing," Shahid said. "It became harder and harder to practice (and) take care of the patient. You're having to spend more time and more of your effort doing things other than what you are supposed to be doing.

"I was never willing to shortchange patients," he added, noting the model allows him to spend more time with a patient. His office is open from 3 to 8 p.m., Monday and Friday, and from 8 a.m .to 9 p.m., Tuesday, Wednesday, Thursday, Saturday and Sunday.

For more information, call 865-327-CARE (2273) or visit online at caringtonhealth.org

Before opening his own practice, Shahid was practicing in the West Hills area with Tennova for a year. Prior to that, he was American Family Care in Alcoa for five years.

He graduated from St. George's University School of Medicine on Grenada and finished his residency in Providence, Rhode Island, where he spent 10 years.

Born in Boston, Shahid grew up in New England.

but said, "I had my eye on Knoxville for a long time.

"My wife (Paula) and I weren't sure where we wanted to spend the rest of our lives," so they researched areas around the country and chose Knoxville.

While he did not have the opportunity to do his residency in Knoxville, he applied for his medical license in Knoxville in 2001 and moved to Knoxville in 2008. He got a three-year contract with Lakeway Hospital in Morristown, later serving as a medical director of a nursing home and a year as a hospitalist before going to American Family Care.