New teammate joins Rural Metro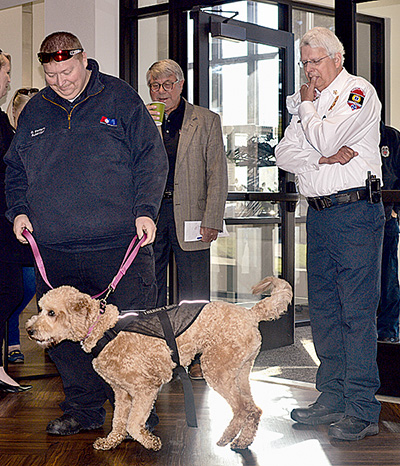 American Medical Response-Rural/Metro has added a new VIP to its crew.

Recently welcomed was Dolly, a 17-month-old Goldendoodle certified by Global Medical Response as the fire station's regional training and therapy dog to assist emergency workers. The announcement came at a Farragut West Knox Chamber of Commerce networking, hosted by AMR-Rural Metro Fire at Farragut Community Center.

"These guys have dealt with more stress than probably any (other) people in the community," said Mike Arms, a senior partner of Tennessee Strategies and lobbying supporter for AMR-Rural Metro Fire.

"She was named after Dolly Parton," Fire Chief Jerry Harnish said, adding she also is trained and certified through the Federal Emergency Management Agency and will be available for FEMA.

The pup is in the care of co-handlers Darek Shetterly, administrative supervisor, and Daryl Warren, operations manager.

"We like to say we split custody," Shetterly said. "I love having her. The crew loves her, and she is a big hit with our staff.

"She is here for comfort, if we've had a bad day or had a bad call," he added. "She does a great job at it for sure."

During the networking, Harnish recognized the late Chief Bill Blankenship, who had the foresight to establish the Fire and Rescue system. Blankenship died this year from complications from COVID-19, but "his legacy is still here," Harnish said.

According to Rural/Metro Fire's website, it is "the largest emergency service provider in East Tennessee.

Adding ambulance operations, Rural/Metro is comprised of more than 800 employees serving Knox, Blount, Loudon, McMinn, Polk and Franklin counties."

With a budget close to $100 billion, Knox County Mayor Glenn Jacobs said that budget would be bigger if the county did not have AMR-Rural/Metro Fire.