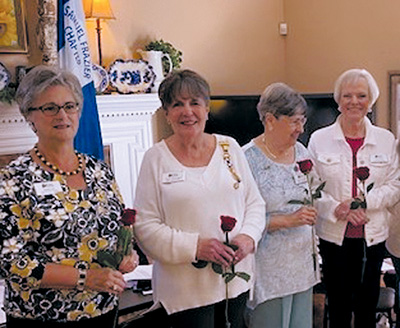 The Daughters of the American Revolution's Samuel Frazier Chapter recently presented the DAR Medal of Honor to a local pastor, while commending a group of Vietnam-era U. S. Army spouses during two separate ceremonies.

Remembering Vietnam

Sharon "Sam" Wyrosdick and Doris Catts, both of Farragut, along with Eileen D'Araujo recently shared their experiences and memories as U.S. Army spouses during the Vietnam War era with members of the local chapter, which commemorated Women's History Month and National Vietnam War Veterans Day.

The three Veteran spouses represented the importance of family support – the force behind the force – for those who serve in the armed forces, with a combined 170 years of marriage and spouses with 85 years of military service, four years of unaccompanied deployments to Southeast Asia and 60 moves across the country and around the world in service to our nation, according to a DAR press release.

"This was a very special program for our members," DAR regent Margaret Scobey said. "It was also meaningful to hear from our Chaplain, Susan Lee, who served as a flight attendant on military flights returning soldiers home from a tour of duty in Vietnam."

Medal of Honor given

The DAR's Medal of Honor is the highest and most prestigious award given by the DAR and must be reviewed and authorized on a national level before being awarded to a recipient, according to the DAR press release.

Edmonds a hero

On Saturday, May 22, after this stringent review was completed, the Chapter presented the award to Pastor Christopher W. Edmonds, whom the chapter had recommended to receive it.

Edmonds was born to follow his father's strong moral code and "choose to do what is right for others, oppose what's wrong or evil, dignify life and humanity and express love for everyone," the release stated.

This sense of valor and trustworthiness was known as "Roddie's Code," the life-long code of Edmond's father, Roderick W. "Roddie" Edmonds, whose legacy of leadership and bravery as a German prisoner of war was unknown by his family until long after his death, and was only discovered when Edmonds attempted to help his daughter with a college history project about her grandfather's military service. 

After finding his father's POW journals and wanting to learn more, Edmonds made it his mission to research, document and preserve his father's military history. 

When he discovered his father courageously defied a German officer's order to identify Jews among more than 1,200 American POW soldiers by declaring "We are all Jews here," Edmonds understood his father had saved many lives. 

Making certain his father's story is known across the nation and around the world has become Edmond's passion and mission, the press release continued. 

He has shared Roddie's Code with students, veterans, military leaders and the general public to inspire heroism and trustworthiness when faced with life challenges. 

Edmonds' own dedication and determination to share his father's story led to Israel's first recognition of an American soldier with its highest honor, one of only five Americans ever to be named as "Righteous Among Nations."

The event was held at Rothchild Catering & Conference Center, and those attending included the state DAR Regent Cecile Wimberley and 2nd District U.S. Rep. Tim Burchett (R-2nd District). After receiving the award, Edmonds discussed his father's faith and valor.

"It was an amazing story," said Martha Kroll, the Chapter's corresponding secretary.

"I don't think there was a dry eye in the room when it was complete," she added.

Edmonds also wrote "No Surrender" about his father.