With Millan 'psychology' method, Balanced Paws fills dogs' needs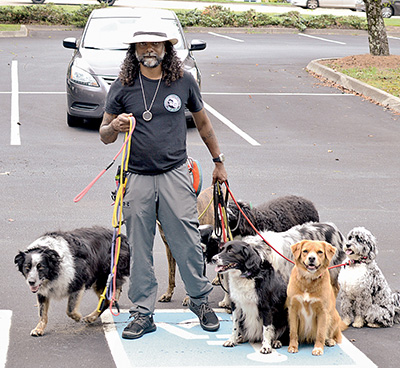 Lincoln and Laura De Souza of Farragut are bringing the training of world renowned "Dog Whisperer" Cesar Millan to their dog psychology center, Balanced Paws K9 Training, which opened last week at 11135 Kingston Pike in Farragut.

Lincoln, a canine behaviorist, has been training dogs for four years. He started the business in his home, but with the business' growth he said they decided to open up the center to accommodate more dogs.

"It's not a day care, it's a boot camp," he said, adding, "It's not just training, it's focusing on the dog's needs. Every dog that comes here, whether it comes from a puppy stage or adult dog, has some type of behavior issues.

"The reason why we do it is because their needs aren't being met the way they should be met."

Lincoln is a student of Millan and volunteers with Millan's team, teaching students from around the world.

"We bring a different aspect into what we do here, and what we teach owners is the way the dog sees the world," he said. "As Cesar would say, 'It's all about exercise, discipline, then affection last.'

"The way I like to say it is 'mind, body and soul.'

"We teach owners how to get to that calm state in their dog," he added. "They will be playful, but their needs have got to be met. That's where we come into it – not just (teaching) 'sit, stay, roll-over.'

"We exercise their brain, their body and the heart – the soul part. ... That's so much more intimate so you don't have those behavioral issues we deal with a lot here."

He met Millan through his own "trouble" dog, Abby. "I tried every other training out there," Lincoln said. "Five years ago, I took her down to attend one of Cesar's classes and did that whole five-day experience with Cesar … implementing his training that is more of a way of life. It changed her."

Lincoln was so impressed he took another course, then started volunteering before he completed training with Millan's team at the Animal Behavior Institute.

In 2019, Lincoln was commissioned to go to Australia and help people there, where they ran a dog daycare business.

Hours are from 7:30 a.m. to 4:30 p.m., Monday through Friday, with appointments available on the weekend. For more information, visit www.balancedpawsk9training.com or call 865-621-9371.