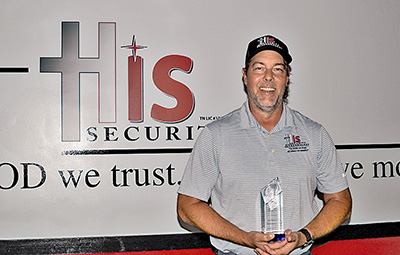 His Security & Technology's 2020 "Real Men Wear Pink" campaign efforts to raise money to fight breast and other cancers recently reaped a national award.

Located at 11426 Kingston Pike in Farragut, His Security won the Security Sales and Integration Magazine SAMMY Award for Community Outreach Program, which was announced Thursday, June 3.

"To win a national award is great because it's not just a one or two people-type of activity. It takes the whole company," said Scott Brockamp, co-owner with Doug Fraker.

Security Sales and Integration Magazine is the industry's leading publication that conducts the awards.

"As you look through the list (of winners), there are a lot of high-powered multi-billion dollar companies that we had to go up and compete with," Brockamp said, "which is what I think makes it more meaningful, knowing we went against companies like ADT, Guardian and some of the other national companies that, quite frankly, have unlimited budgets and resources to be able to do these types of things. ... We've got great employees, staff and community partners that made this happen.

"We ended up No. 7 in the nation for fundraising efforts" in 2020, he added.

His Security, which has been in business for 11 years, is in its sixth year in Farragut. Almost five years ago, Brockamp initiated the "Real Men Wear Pink" campaign to raise money in the fight against breast cancer, as well as for the local American Cancer Society office.

"Susan B. Komen East Tennessee (in Knoxville) is no longer operating here," Brockamp said. "American Cancer Society's (local) office has been closed here.

"The resources just aren't as easily accessible as they were due to these organizations being hit so hard through COVID," he added.

"For 26 years SSI's annual SAMMY Awards program has served as a benchmark for security industry excellence in sales & marketing, business operations and project design, management and installation among dealers and integrators," a press release stated.

Community outreach was one of 12 categories in which the security companies could win awards.