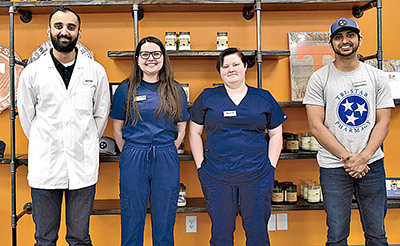 When pharmacist Neil Patel saw a need in his former hometown, he had just the remedy.

After successfully helping operate two independent drug stores in Cookeville, the Middle Tennessee native returned earlier this year to duplicate that success near Pellissippi Parkway when he opened Tri-Star Pharmacy April 1 near Farragut, 10205 Kingston Pike.

"My partners and I saw our other stores grow into a healthy business by offering great customer service and good pricing," Patel said. "I saw the opportunity to do the same in Knoxville."

Patel, who attended the University of Tennessee-Knoxville for both his undergrad and pharmacy degrees, is both co-owner and pharmacy manager at the site, located next door to Moonshine Mountain Cookies in a former Verizon location.

"We signed the lease about a year ago, so it's been really nice to finally be in here now," Patel said.

He said the key to his business is personalized service already being provided at its other locations.

"What we do here is offer outstanding customer service in a number of ways," Patel said. "While we do price match, even for those who are not insured or have to pay cash, our customers have found out that we do have the best prices in town.

"A lot of people, for example, don't know about available coupons or manufacturer rebates, so we try to cut out the leg work for them," he continued. "Our customers have confidence that they can depend on us to get a good value for them.

"We also offer free deliveries."

The store has been enjoying a "soft opening," but Patel plans a grand opening from noon to 3 p.m., Thursday, July 1, with door prizes, an on-site food truck and other promotions.

So far, "reception has been really good," he said, noting "quickly established working relationships with medical providers in the area. We have been really excited about our location, since it's close to so many doctor's offices."

Patel has also been branching out with a variety of unique sales lines, including Fox-Hound pet products, Pela Case accessories, Walton Wood Farm soaps and Finch Berry bath salts, in addition to an array of University of Tennessee memorabilia.

Store hours are from 8:30 a.m. to 6 p.m., Monday through Friday, and from 9 a.m. to 2 p.m., Saturdays.

For more information, visit tristarpharmacy.com or Tri-Star Pharmacy on Facebook, e-mail rxtristar@gmail.com or call 865-338-3600.