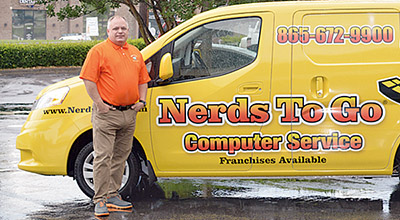 Farragut businesses and individuals will have mobile technology assistance available from Nerds To Go, 11110 Kingston Pike Suite 140 in Aspen Square shopping center, starting in early July.

Franchise owners Don Dally and Susan Dally of Farragut are opening the computer service franchise with a soft opening in early July and a grand opening in mid-August.

"We service small and medium businesses and residential with all things IT, so everything from computers to smart phones, tablets, printers and wireless networking (Wi-fi)," Don Dally said. "If it's IT-related, we do it.

"You crack your cellphone screen, bring it in to us, we'll fix it," he added. "… If you need help understanding how to use (a device), we can help.

"We see a lot of kids wanting their parents and grandparents to get on Facebook or Instagram and share pictures; we can help them understand how to get onto those applications."

For example, "We'll do lessons on security, how to use different social media applications and lessons on how to use your computer in general," Dally said.

Along with the Dallys, Ken Wilmoth, general manager, and Milan Umicevic, 'lead nerd,' will serve customers both as walk-ins at the office and on the road through Nerds To Go's mobile service.

"They can come to us or we can go to them," Dally said. "We'll have two vans we can dispatch … servicing (Farragut), Knoxville and surrounding areas."

Dally, Wilmoth and Umicevic came from the corporate IT world. "From a small business perspective, we're going to bring corporate-level IT capabilities to that small business," Dally said. "That's typically out of reach for them. A lot of small businesses don't have IT people on staff.

"For our (Nerds to Go franchise) sites around the country, that (service) has been really beneficial last year," he added. "A lot of people (worked from) home and didn't have the computer infrastructure."

After observing small physician practices didn't have the same level of IT capabilities bigger practices had or their IT personnel were not full-time, Dally said he set out to service that part of healthcare,

"As I started doing that, I realized that was a lot tougher to start from scratch than I anticipated," he recalled.

However, Dally discovered the Nerds to Go franchise and realized, "I could go into business for myself but not be by myself.

"We're part of the Nerds To Go franchise," the co-owner added. "There are about 30 locations, right now, around the country.

"We'll be the first in Tennessee."

Since Dally lives in Farragut, he said the suite is "really a great location, both for access to small businesses and individuals."

The company's hours will be from 9 a.m. to 5 p.m., Monday through Friday.

Additionally, it will be available after hours by appointment.

For more information about Farragut's Nerds to Go, send an e-mail to ddally@NerdsToGo.com, visit nerdstogo.com or call 1-800-390-NERD.