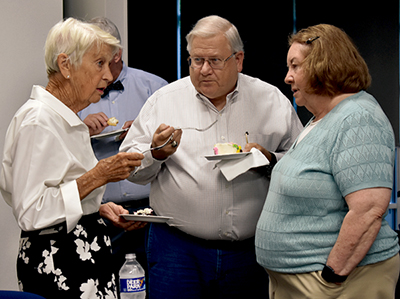 While saying goodbye to a commissioner holding a special place in Town history, Farragut's Municipal Planning Commission voted unanimously to update its Major Road Plan last week for the first time in several years.

The Thursday, June 17, vote was a follow-up to a workshop held during its May meeting to discuss adding new Town roads and reclassifying current ones.

Approved changes were:

• Adding Ivey Farms Road (the new road from Ivey Farms to Kingston Pike) to the Major Road plan and classify it as a Major Collector (which primarily acts as a transition between local traffic and through traffic);

• Reclassifying connecting roads from Turkey Creek Road to Midhurst Drive from Local Streets to Local Collectors (Local Streets serve residential lots; Local Collectors serve internal movements of residential areas to major collector streets);

• Add a missing length of Kingston Pike from the Town limit to Lovell Road as a Major Arterial (carrying fast or heavy traffic);

• Reclassify Jamestowne Boulevard and Boring Road from Local Collectors to Major Collectors (serves as transition between local and through traffic);

• Reclassify Grigsby Chapel Road and Smith Road from Kingston Pike to Fretz Road from Major Collector to Minor Arterial (used primarily to handle moderate to high traffic speeds and volumes);

• Removing the west side of Campbell Lakes Drive as a Future Road; and

• Remove the connector that is shown east of the North Campbell Station Road interchange (no longer necessary since improvements were made to Snyder Road and Outlet Drive).

In other business, FMPC:

• Approved the final plat for Old Stage Farm subdivision on Old Stage Road, which will offer seven house lots;

• Recommended approval of two new entrance-way signs in Fox Den, which will be voted on by the Board of Mayor and Aldermen; and

• Discussed proposed modifications for Bridgemore subdivision and the site plan for Kingston Pike Village, Phase 2.

Dick steps down

Betty Dick, one of Farragut's original seven founders known as Farragut Community Group — and the last who was actively serving the Town — has stepped down from FMPC.

A small reception in her honor preceded the Thursday, June 17, meeting, which concluded her latest two-year term. She had been appointed to FMPC by the late Mayor Dr. Ralph McGill (also a Town founder), but said she asked current Mayor Ron Williams not to re-appoint her.

"It was just time to step aside," Dick said. "I've been involved with the Town over 40 years and decided they needed newer, more up-to-date people to serve.

"Of course the Town will always have a special place in my heart," she added.

Dick said she had been involved in Town affairs in some capacity since those early days, which included being elected as an aldermen.

"I am proud of the way Farragut has developed over the years," she said. "There are always some things you might not like, or wish hadn't happened, but you just don't dwell on things like that and just focus on the positive."

Vice Mayor Louise Povlin said Dick will "certainly be missed," adding both she and FMPC chair Rita Holladay likely would be calling on her in the future.

"I am sad you are leaving us," Povlin added. "You have been an amazing inspiration for us, especially as a woman as you have continued to take part in the Town in roles of leadership."

Dick said she has not ruled out possibly serving on a Town committee or two in the future.

"The Town is very dear to me," she added.