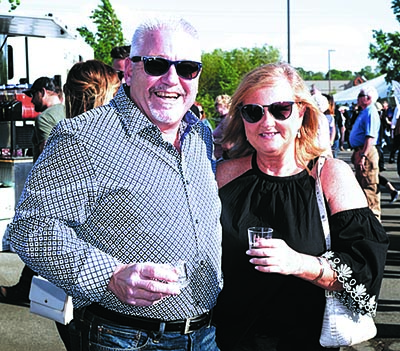 After a year off because of COVID-19, the Southern Tequila and Taco Festival is returning from 6 to 9 p.m., Friday, July 23, at a new location in Farragut to benefit Remote Area Medical.

"This year, we are going to be hosting it in the JCPenney parking lot in Turkey Creek," RAM CEO Chris Hall said. He noted the event previously was held in Gander Mountain parking lot in Turkey Creek, then moved to an Outlet Drive location.

"We brought it back to Turkey Creek just because it gives us a great spot with good visibility," Hall said. "A lot of the restaurants and businesses in Turkey Creek help make this event possible … and JCPenney was gracious to allow the bottom half of its parking lot.

"Much like before, it's going to be the largest fundraiser for Remote Area Medical that happens throughout the year," he added.

This is the sixth year for Southern Tequila and Taco Festival, Hall said.

Founded by the late Stan Brock, known for co-starring role in the 1960s TV show, "Mutual of Omaha's Wild Kingdom," RAM, a non-profit organization, has provided free medical, dental and vision care since 1985.

"We are very thankful for John Volpe (general manager) with Abuelo's (Mexican Restaurant) and team for helping host this event and make it possible," Hall said. "This year, we're looking at having more than 100 different types of tequilas and mezcals available, and we're hoping this to be the biggest event that we hosted to date."

Although general admission time starts 6 p.m., "We do have early admission that will allow people to come in as early as 5 p.m.," Hall said.

General admission tickets start at $40 per person; early admission tickets cost $60.

"Those are all if purchased before the event," he said. "If someone waits until the day of the event, (general admission) tickets are $50 at the door."

There also is a "designated driver tacos only" option for $15 and an entry time of 6 p.m.

Tickets are available online at southerntequilafest.com

Along with the beverages, Hall said there would be more than a dozen taco vendors from local vendors and food trucks, Hall said.

He added the entertainment for the evening would be provided by Nashville musical artist John Stone.

"He has played for the festival, I think, two years now," Hall said. "He does an amazing job. The crowd really loves him, and he gets high ratings, so we will bring him back."

Hall added he is excited for the festival to return.

"You know, COVID last year shut down everything, and so we're excited to bring the event back," he added. "It is later in the year than we traditionally do — we normally do it around April … but we're just honored that the teams pulled together to make this festival happen.

"Having a year without it, obviously, the donations that come from it were missing last year."

Hall said the event typically brings in close to $85,000 to RAM.

"That covers the cost of a couple of two-day (mobile medical, vision and dental clinics) that we do," he said. "So with that not happening last year, that restricted" the clinic events."

Hall also pointed out "COVID shut down several events for us also.

"So, we're excited to get back out and have a great time and enjoy an outdoor festival and also excited the proceeds from that will go directly to patient care right here in our backyard," he added.

With the hold on COVID lessening, RAM is able to hold events every weekend or every other weekend.

"These (festival) funds truly help bring free healthcare to the people in need in our communities," Hall said.