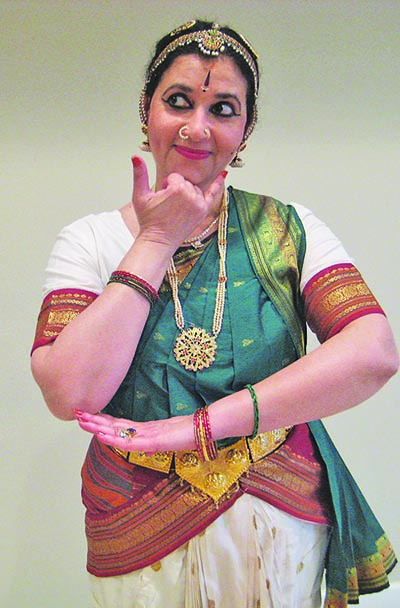 Bhavani Murthy, a West Knoxville resident living on the cusp of Farragut, recently received a statewide South Arts Folk & Traditional Arts Master Artist Fellowship award for Indian classical dance.

After receiving the phone call about the award, "I was really happy, really excited to get it," Murthy said. "I could not believe it when I did get the award.

"The only problem, with COVID now, is you can't do anything," she added.

Murthy received the fellowship for performing the classical Indian dance forms bharatha natyam and kuchipudi. She wants to hold charity shows, with an orchestra, to benefit such efforts as education for children in India and the United States and for the COVID Relief Fund in the United States and internationally.

She and her daughter, Ranjani — who also is a professional dancer and teacher — have held such shows to help other charities.

Murthy has been dancing since she was 8 years old.

"Usually, in India, we are exposed to dance and music all the time from childhood," she said. "My mother happened to be a singer. She used to sing Indian classical music, so we always had music in our house constantly.

"And, that music is what we use for this dance form also — classical music of India, from the south," Murthy added, pointing out the two dance forms have been existence for more than 2,500 years.

These two dance styles "now are very popular, especially in the bigger-populated states all over the U.S. … for the local Indian community, plus Westerners also," she said. "They're getting interested in it because it's such a beautiful art form. The jewelry is elaborate. The costumes are elaborate.

"It's one of the oldest traditional dance forms," Murthy added. "It has been handed down from generation to generation."

Moving to Kingsport in 2003 before moving to Knox County in 2015, Murthy came to America in the 1970s and returns to India almost every year or two to continue her dance education from her gurus in India.

In turn, her gurus come to America to conduct workshops for Murthy and her students.

Murthy has been taught Bharatha Natyam by the late B. Bhanumathi, Sheela Chandrasekhar of Bangalore, India, and Sudha Chandrasekhar, and Kuchipudi by SandyaSree Athmakuri of Michigan.