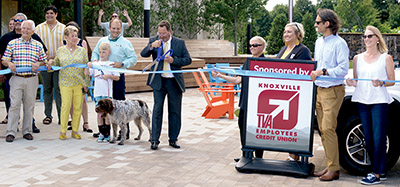 A project three years in the making came to fruition when Pinnacle of Turkey Creek held a ribbon cutting, hosted by Farragut West Knox Chamber of Commerce, for its new plaza Wednesday, June 30.

The plaza, formerly the fountain site constructed in 2005, is located between The Loft and Talbotts in Pinnacle's shopping complex, operated by Bayer Properties.

"It's awesome," Pinnacle general manager Darryl Whitehead said about the finished project. "It's completed, everyone enjoys it. It gives us an opportunity to do even bigger and better things we've been working on for the last nine years."

Pinnacle already is offering fitness classes, food trucks on Fridays and a musical artist who comes to play on Saturdays.

For Pinnacle, the project was a long time coming. "When COVID hit the first or second week of March (2020), it was put on hold," Whitehead recalled. "We were supposed to start construction. ..."

However, he urged the owners to go ahead with the construction since the nearby Regal Pinnacle 18 theater was continuing with its own renovations.

"We used COVID to revamp the place," Whitehead said. "Wi-Fi is running throughout the property now … and there's stuff in the works, including working with the Town of Farragut on a nice walkway between us and our new neighbor (onto Outlet Drive by going over Interstate 40/75). It will be beautiful."

Whitehead said the owners realized the space needed a redesign.

"Three years ago, we had a conversation" with Sara Hedstrom Pinnell, owner/head designer of Hedstrom Landscape Architecture, and her husband, Ben Pinnell, president of Hickory Construction, Whitehead recalled. "We sat here and decided what we wanted this to look like."

Whitehead said the criteria dictated the space reflect East Tennessee's outdoors.

Additionally, "this space needs to be flexible for special events and other different things happening," she said.

"What you see is what they came up with," Whitehead added, indicating the plaza and pointing out TVA Employees Credit Union was biggest project sponsor.

The new space now features plenty of seating made from recycled materials, native plants and space to walk around and gather. It also is providing space for food trucks.

"I want to hand it to Sara and Ben. They are the ones who created this beautiful space that we have here," Whitehead said.

Pinnacle is getting ready for its upcoming "Taste of Turkey Creek" in September and "Lights Up" in December.