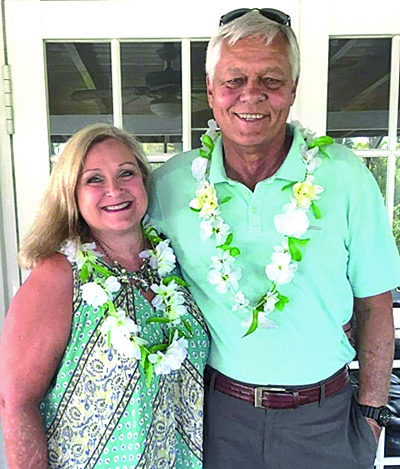 It's been a long wait for Hardin Valley resident Roy Webb — frustrated by three "almost" opportunities for a new kidney — but he remains hopeful that prayers for a new kidney will finally be answered.

He was notified just last week he had once again been added to the transplant list at University of Tennessee Medical Center following several months of health issues, during which he had to decline a perfect match while recuperating from peritonitis.

Ironically, the condition occurred as a direct result of the nighty peritoneal dialysis he has endured since 2015 due to chronic kidney disease — the very process which has kept him alive.

"It is very rare to be on this type of dialysis this long without getting peritonitis," said Webb, who's wife, Vicki, has been steadfast by his side since they married in 2014. "But I was home recovering when I got the call, offering a transplant after six-and-a-half years of waiting.

However, "God knew this wouldn't be a good match for me, or that somebody on the list behind me needed it more than I did," he added.

In fact, having to decline the kidney might have been a blessing in disguise, as he soon after developed vertigo, which left him dizzy and weak until it was properly treated.

Of Webb's other two chances for a new kidney, the first volunteer stepping up became pregnant, knocking her out of contention. Then a second prospective donor volunteered, but COVID-19 stopped the procedure early last year. When those restrictions finally lifted, the donor's situation had changed, making the donation impossible.

But the couple is relieved Webb is finally back on the transplant list, having being cleared by his doctors.

"I have End Stage renal failure," he explained, noting it was the result of a genetic condition, which has also impacted other family members. "Many people who go six years or more waiting for a kidney, die before they get one."

Webb added there are 185,000 people on the transplant list, but only 13,000 available kidneys.

Those being tested undergo extensive medical evaluations. Even if they are not a match for Webb — who needs a donor with an A positive or O blood type — they could be a match for someone else.

"What 99 percent of the public doesn't know is that medically, we only need one kidney to survive," Vicki said. "Also, if you do donate a kidney, and ever have any kidney problems later on, you go to the front of the line if you ever need a transplant."

"We know, when it's the right one, it will happen," said Webb, as he and Vicki have seven children and six grandchildren between them.

For more information, and to consider becoming a donor, contact UT Center of Transplant Services at 865-305-9236.