Among a 24-team field, Village Green swim team captures yet another Smoky Mountain Invitational meet crown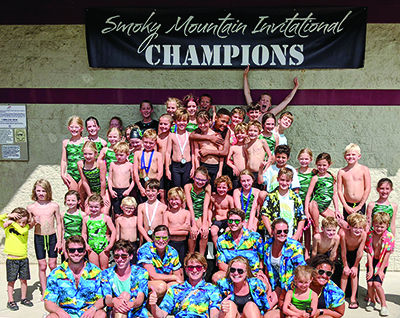 ALCOA — In Sarah Fortney's 11 years as a Village Green swim team coach, her Gators have failed to win the annual Smoky Mountain Invitational Swim Meet in Blount County just once.

Old habits die hard, and Fortney's roughly 130 swimmers once again were champions — among a 24-team field reaching from Newport and Morristown south throughout Knox County and the Maryville area — celebrating their two-day feat at Springbrook Pool in Alcoa Sunday afternoon, July 11.

"This meet is typically a highlight for our team each summer. ... Traditionally, Village Green has a history of doing really well," said Fortney, in her eighth season as Gators head coach, about SMI, which features each team's "summer-only" swimmers in a youth sport filled with year-round swimmers on high school teams and with area club squads.

"We traditionally have a large number of summer-only swimmers," she added.

Leading the way individually were Lydia Finnegan, 12, who won four Girls 11-12 events: 50-yard freestyle; 50-butterfly, 200-medley relay and 200 free relay.

Bo Gary, 8, competing in Boys 8-Under, also finished first in four events: 25-freestyle, 25-butterfly, 25-backstroke and100-medley relay.

"I would say that Lydia and Bo were certainly our biggest highlights of the meet," Fortney said.

Sophie Thompson, 17, competing in Girls 15-18, was champ in 50-freestyle and 50-butterfly.

In addition to this meet, the Gators held a perfect 4-0 record in League 1 Greater Knoxville Area Interclub Swim Association meets, having beaten Sevier Aquatic Club in its home pool Tuesday, July 6.

As pinpointing reasons for the team's success this season, "We've have an absolutely phenomenal (assistant) coaching staff," Fortney said.

Farragut three other community swim teams also placed high in Alcoa, with the Sugarwood Stingrays claiming third (1,096 points) followed by Concord Hills Piranhas in sixth (555) and Fox Dex Red Foxes finishing eighth (453).