Prayers answered for Webb as kidney found; surgeon labels it a 'perfect' match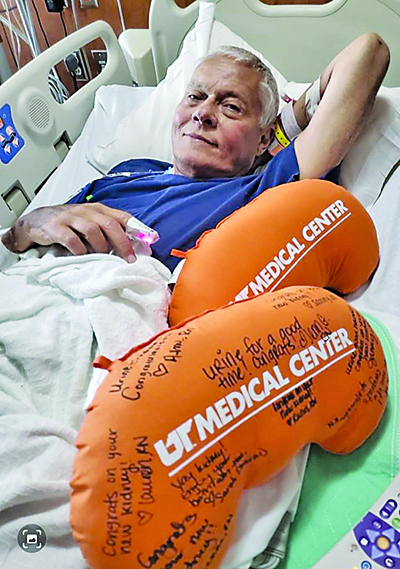 A week and a day after being placed back on the national kidney transplant list — and just after deadline of the July 15 farragutpress story detailing his steadfast faith in God despite near misses at receiving a kidney — Roy Webb got the call he had long awaited.

"The hospital (University of Tennessee Medical Center) called at 6:45 that morning (Tuesday, July 13), telling us they had a kidney coming from out of state, 'but not to get too excited until he woke up and actually had a new kidney because anything could go wrong,'" his wife, Vicki Webb, explained.

It was a call the couple had waited on for little more than six years.

"They told him to pack his bags and keep his phone nearby," Vicki added. "Three hours later, they called to say they were preparing a bed for him; then an hour later they told us to come on."

As they entered the ninth floor and notified the nursing staff why they were there, "all of the nurses stood up and clapped at the news," she said.

"It nearly brought tears to our eyes."

Roy was prepped for surgery that afternoon, and when he was being transported into the pre-surgery area, "nurses played the 'Rocky' theme and did a little dance of encouragement as he was being wheeled by," Vicki added.

Surgery began at 7:20 p.m. Although the family was advised it could take as long as four hours, "after a little more than 90 minutes the surgeon came out," she said about Dr. Oscar Grandas. "I was concerned just for an instant because we didn't expect to see him that quickly.

"But he started talking and said, 'He's doing great,'" Vicki added. "He said the kidney 'was perfect,' and since Roy was thin and in such good health, it went very well. The kidney pinked up and started producing urine within just a few hours.

"Roy has gotten his miracle and has a second chance for a healthy life."

Although his entire family is overjoyed, they realized someone in another state lost a loved one, and wanted to be respectful of that loss.

"We are so grateful that the decision had been made for him to be a donor," Vicki said, adding all they knew of the donor was that he was 55 and from an unnamed state. The family is hopeful they will be able to send a note, thanking the donor's family for their sacrifice and selflessness sometime in the future.

After being hospitalized for four days, Roy was able to return to the couple's Hardin Valley home Saturday, July 17, with a list of new medicines and dietary constraints as his body and new kidney adjust.

"We met with a nurse, a pharmacist and a dietician who educated us before he left the hospital," Vicki said. "Of course the most important new medicines are ones which have to be given at an exact time to keep Roy's body from rejecting the new kidney."

Roy will have several weeks of follow-up "clinic" visits, during which his blood and creatine levels will be thoroughly checked.

He also is limited on what he can eat to stave off food-born illnesses, and for the time being there are stringent restrictions on visitors.

"He's in a lot of pain from the incision, which is to be expected," Vicki said in a telephone interview Sunday, July 18. "But he has said when the pain subsides, he does feel better already.

"This has been life-changing for us and has opened up the possibilities for the future we weren't always sure of," she added. "But we have prayed all along for God's perfect timing and for Roy to get the perfect kidney, and He did not disappoint.

"We are just so grateful for everyone who has prayed for us and shared our (Facebook) posts and our story. .... We are also thankful for the excellent nurses and doctors and care Roy has received. I know he will be feeling better soon, and we will be able to embark on our new life together that we had only dreamed about."

The couple continues to encourage "everyone to please consider marking 'donor' on their driver's licenses."

"If someone suffers an untimely death, their families would be aware of their wishes and give someone else the Gift of Life," Vicki said.