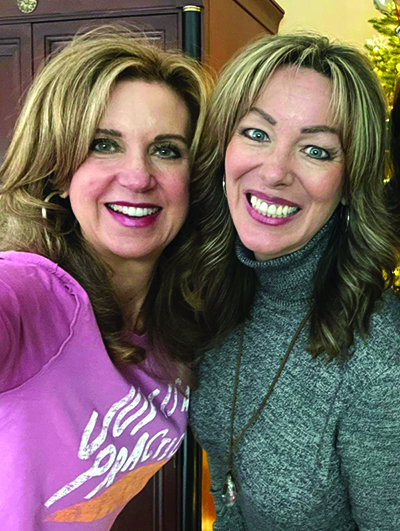 The health benefits of collagen have been in the news for some time, with celebrities and health gurus touting its impact, but two local women are sharing a new product revolutionizing the movement.

Kristin Williams and Angie Brown of Farragut are partners and distributors for Isagenix, which earlier this year launched its new Collagen Elixir, which already is the No. 1 collagen product on the market today.

"They have sold 16 million doses worldwide," said Williams, noting the product is a mixture of vitamins, botanicals and 5 grams of marine collagen and only sold online.

"People start losing collagen around age 25," Brown said of the protein, which is the most abundant in the human body and is found in the bones, muscles, skin and tendons.

Medicalnewstoday.com describes it as, "The substance that holds the body together … (and) forms a scaffold to provide strength and structure."

"Replacing collagen can have a number of benefits, from healthier hair, skin and nails to helping ease joint pain," Williams said.

However, most supplements are in powdered form. The pair noted a key difference between powder and the Isagenix liquid product.

"A powdered collagen product degrades due to oxidation when it's opened repeatedly," Brown noted.

Marine collagen was discovered to be a close relative of human collagen, which is why it has been utilized in creating the Elixir and "why it works," Brown said.

"It is sourced in Scandinavia, which has the cleanest fish of the highest quality," Williams added. "It has been described as the 'Mercedes' of collagen."

She noted her own experience with the product "has made my lips fuller, evened out my skin tone, my sunspots have faded, my eyelashes have grown and I have healthier hair and longer nails.

"It's an inside/out product" said Brown, who added, "everyone" in her family is taking the Elixir. "Results can vary, but my daughter has seen significant improvement in her acne and my husband and son have noticed skin and joint improvement. My oldest son had knee surgery and had significant joint pain before he started taking it, and said it has helped a great deal. In addition to those mentioned, it's also helped me with a chronic dry eye condition."

Williams said her 78-year-old mother also noticed positive changes after taking the Elixir.

"She really noticed how much better the arthritis in her hands felt," she said. "It has been life changing for her, to be almost pain-free."

"Most people begin with two doses a day to accelerate results," Brown said.

"Isagenix offers a 100 percent money back guarantee if people don't love it," she added.

For more information, contact Kristin Williams at https://williams-kristin.isagenix.com/collagen or call 865-323-9813.