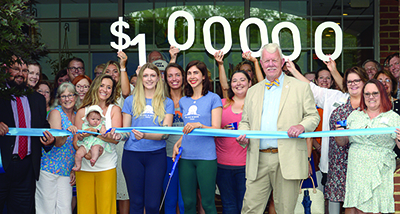 Family, patrons and Town officials gathered at Blue Ridge Yoga & Wellness Center, 623 N. Campbell Station Road, Wednesday, July 14, to surprise its owner and celebrate its milestone in giving back $100,000 to its community.

Using yoga classes and other fundraisers, owner Jessica Mishu and her staff have raised funds for such organizations as Girls on the Run, American Cancer Society, Hoops for Hearing for Tennessee School for the Deaf, Shangri-La Therapeutic Riding Academy, The Muse and many more since it opened six years ago.

"We're giving this (ribbon cutting) to celebrate a very special milestone of them giving back over $100,000, including during COVID, and never stopping that service leadership spirit," said Julie Blaylock, Farragut West Knox Chamber of Commerce president/CEO. "And a Chamber event is never a Chamber event, when we can pull it off, without a surprise the business owner knows nothing about."

Mishu was taken aback and brought to tears as Blaylock introduced Farragut Mayor Ron Williams, who read a proclamation that he "hereby recognizes Blue Ridge Yoga's generosity among our community, and on behalf of the Town of Farragut extend congratulations to owner Jessica Mishu and staff, and express our pride in their accomplishments as a model of servant leadership within a small business in Farragut."

Since the center's opening, Mishu and her staff "have committed themselves to supporting the community and caring for those around them," Williams also read in the proclamation

"Blue Ridge Yoga, as a local small business, clearly demonstrates a specific passion for supporting both other area small businesses and organizations; and … consistently exhibits the holistic yoga practice of 'seva' ('service') in the way they do business."

Mishu opened the business in 2015 and has been a member of Farragut West Knox Chamber of Commerce since its inception.

"I am so honored," Mishu said following the proclamation. "This studio was started in service to give back, and I just feel like I picked the perfect place in the world.

"I lived in a lot of different countries and a lot of different places, and the generosity that you find in East Tennessee is unmatched," she added. "I'm so grateful for everyone that we partnered with, all our students, all our staff.

"I appreciate that so much. I love that we all come together as a community to make Knoxville the best place to live."

"As your very humble Chamber of Commerce, we're very proud of you," Blaylock told Mishu. "It's hard to open a small business, it's hard to keep a small business sustainable and it certainly was never tougher than it had been in the past year.

"But Jessica has always been a light in this community," she added.