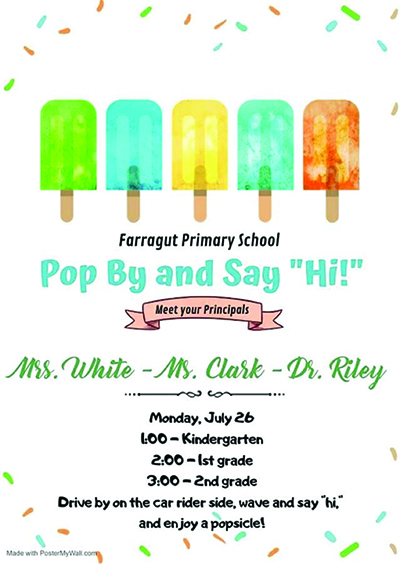 Incoming Farragut Primary students will have the opportunity to meet their new principal, Lynn White, and new assistant principal Dr. Annie Riley, when the school hosts "Pop By and Say Hi" Monday, July 26.

White comes to FPS from Sterchi Elementary School, while Riley comes to from Carter Elementary.

Along with assistant principal Jaleece Clark, these administrators will be standing in front of the school, 509 N. Campbell Station Road, to greet the students and their parents in the car rider line.

Kindergarteners and their parents can come by beginning at 1 p.m.; first-graders are scheduled to begin arriving at 2 p.m.; and second-graders are to come beginning at 3 p.m., according to a flyer distributed late last week.

All those dropping by also can receive a popsicle.