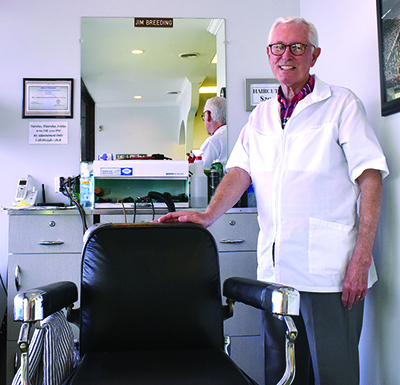 One of the area's newest barbers is likely the most experienced.

Jim Breeding of Farragut has been a professional barber for 59-and-1/2 years, and recently relocated to Femme Touché Hair Design, 10547 Kingston Pike, after closing his Arcade Barber Shop in Oak Ridge after 31 years.

"I didn't want to quit altogether," Breeding said. "It's been enjoyable, and I hope to get in about five more years."

The closure brought an end to an era, noting he was "the last barber left in Oak Ridge from the 1960s.

"Breedings had been in Oak Ridge a long time," he added, sharing his father, P.M. Breeding, and uncle, W.C. Breeding, both were part of the same trade and had worked in the Oak Ridge area "since my dad worked in a C.C.C. Camp before World War II."

His new locale is "a much closer drive" for the septuagenarian, who moved to Farragut with his wife, Betty Breeding, in 2015 to be closer to their daughters, Farragut High School teachers Valarie Breeding Cagle and Angela Breeding, as well as their only grandchild, Adam Cagle.

"I love being here and closer to home," Breeding said. "I had been logging 90 miles a week."

He first got to know Femme Touche owner Magda Smith through Betty, as she has been having her hair done at that studio for the last five years.

"He has been a wonderful addition. I love having him here," Smith said.

It's really not very far from where he started nearly six decades ago. Breeding grew up in the Karns community and started barber school the day after he graduated from Karns High School in 1961. "I thought, 'if I went to barber school and could just make $100 a week, I could live well,'" he recalled.

Breeding worked full time in that field until 1970, when he was hired at the Y-12 Plant in Oak Ridge. Even after taking on a new career, Breeding continued to build a loyal clientele just working part-time.

"I didn't hardly miss a Saturday," he said.

After moving up through various departments, Breeding retired from Y-12 in 2002, concluding as a draftsman in the civil engineering division — and of course, he returned to barbering full-time.

Several generations of families have come to Breeding for haircuts, and he shared a picture of a great-grandfather, his son, grandson and great-grandson, each of whom had taken a seat in his barber chair.

"I enjoy talking to people ... "I have made a lot of friends down through the years," he said.

Breeding has been in his new location since July 1, and found many of his loyal customers" lived in Rocky Hill or Hardin Valley, so they have followed me here," he said.

Breeding works by appointment from 9 a.m. to 3 p.m., Tuesdays, Thursdays and Fridays, and may be reached by calling 865-482-2848.

One change has been downsizing from a full shop to a single chair, and leaving behind a lifetime's collection of photographs, pictures and memorabilia, although he did bring along one treasured picture depicting legendary quarterback Peyton Manning's final college game as a Tennessee Volunteer.