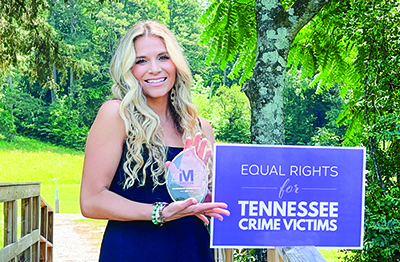 Farragut High School alumna Emily-Anne Buck's dedication to advocating for victims and speaking out against teen dating violence has earned her the Champion of Victim's Rights Award by Marsy's Law for Tennessee. 

"I'm proud to support Marsy's Law for Tennessee and honored to receive this award," Buck said. "I am so passionate about supporting victims, and Marsy's Law will provide the equal and enforceable rights that they deserve."

She recalled she was shocked to find out she had won the award.

"They called me and let me know out of the blue," Buck said, adding that accepting the award was emotional.

"(The presenter) made me cry," she added. "I think, for me, it's full circle … I never knew I would get some award for helping other victims one day, but God did."

As Buck accepted the award, though, her mind was taken back to the worst time of her life, when she was a victim of dating abuse herself.

"I was a cheerleader, on the dance team, raised in a Christian home with a wonderful family," she related. "I was the person you would not think would end up in that type of relationship."

However, "It happened in my school, and it happened in my church," Buck said. "It was a boyfriend I had for a year-and-a-half. The point is it can happen to anybody."

In fact, she said dating abuse happens to one in every three girls.

"Dating (at) 16 years old, everything is perfect," but "eventually there was verbal abuse, mental abuse, sexual abuse, and then it upgraded within a year-and-a-half … we finally broke up and had an order of protection against him and then (he and his family) moved," Buck said.

She remembered feeling "like your life is over, you don't know what the future holds. You're just trying to survive at that age."

Buck, a 2001 FHS graduate, remembered having to pick up the pieces and "start over with friends and everything.  

"I was very alone for a long time. I just had my Bible, and He picked me up and changed my life," she added.

However, Buck, now married and a mother, took that experience and uses it to help teens who are experiencing dating abuse.

"I think for the past 20 years I've been led down this path to help others … especially teenagers because I see how easy it is to get caught up in that type of relationship," she said

"It's a blessing in disguise to see how this could be used for the good — to help other people," she added.

"Emily-Anne is a true Champion of Victims' Rights," said Bonnie Brezina, Marsy's Law for Tennessee state director. "She bravely shares her own personal experiences to help educate Tennesseans on how to avoid unhealthy and dangerous relationships. Her support and advocacy of Marsy's Law for Tennessee is invaluable.

"Teen Dating and Domestic Violence speaker Emily-Anne Buck uses her voice and her story to educate teens and youth on the warning signs of abuse," Brezina added.

"She shines a light on how to reach out, get help, find victory and overcome abuse."

Buck, who has a degree in criminal justice, worked with Knox County Sheriff's Office for 11 years.

"During that time, somebody with the Special Crimes Unit, who found out about my story, said, 'We need to get you in the schools, talking to these kids,'" Buck said. "So we did … 13 years ago."

Buck resigned from the sheriff's office three years ago to devote her time to speaking — also receiving training and building a website — in public and private schools, churches, youth groups, conferences and other avenues.

"It's just grown to where people are looking at how to prevent it or need help getting out of (an abusive relationship)," she said.